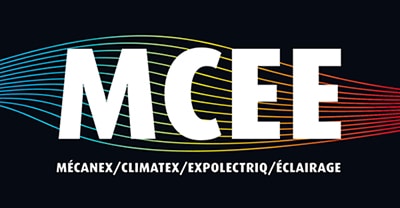 Praxedo to exhibit at MCEE 2019 in Montreal on April 24th & 25th.
By exhibiting at MCEE (Mécanex / Climatex / Expolectric / Éclairage) in Montreal this year, Praxedo is reasserting its development strategy on one of its preferred vertical markets: companies in building mechanics in Canada and the United States.
 
Praxedo will showcase on booth #917, the latest features of its solution specially dedicated to businesses in the space of plumbing, HVAC, refrigeration, electricity, lighting, security, etc.
 
MCEE is a major trade show in Eastern Canada held every two years in Montreal. It is the meeting place that professionals, working directly or indirectly in building mechanics, electricity or lighting cannot ignore.
 
This year, the 400 exhibitors come from Canada and the United States. They are manufacturers, wholesalers, distributors of products or software vendors. On April 24 and 25, the show will welcome more than 6,000 attendees, among which a majority of contractors in plumbing, heating, ventilation, air conditioning, refrigeration, water treatment, fire protection, electricity, lighting, alarms, security systems, etc.
 
 
At this 2019 edition, Praxedo decided to meet a unique audience that represents the heart of its target market. Praxedo perfectly meets all the challenges faced by service companies: management of service calls and maintenance tasks, operational efficiency with the optimization of technicians' working time, responsiveness and respect of their contractual obligations, real-time communication and the collection of field data.
 
The Praxedo mobile application for technicians makes it possible to digitize all types of forms for business purposes (reports, surveys, monitoring of consumed items, etc.) and regulations (declaration of work, reporting of halocarbons, materials, etc.)
 
"More and more businesses and professionals in plumbing, HVACR, electricity, lighting, security, etc. in North America have proceeded to the digital transformation of their operations. They will all have to do it sooner or later to stay competitive, grow their business and keep on providing exceptional service to their customers. Praxedo with nearly 15 years of experience is the ideal partner to support them ». Said Nicolas Eparvier, General Manager of Praxedo's North American office.