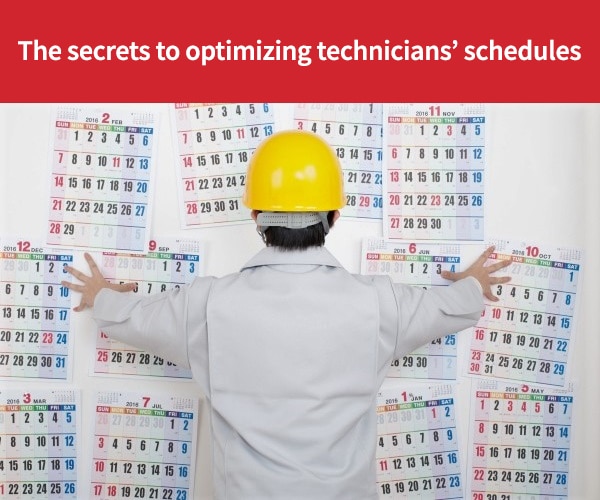 Technician
Field Service Management
Optimization
4 tips to optimize technicians' schedules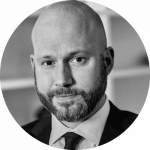 Kieran Le Peron
Managing field technicians' schedules is not an exact science. With so many variables to consider, it's more of an art form. Schedulers have a difficult job. At any time, unexpected events can arise and disrupt schedules: a customer who suddenly isn't available, an emergency repair requirement…even the weather can prevent technicians from getting to sites, and from accessing equipment.
 
For schedulers, the art of the job is to ensure there are sufficient human resources available to deal with expected and unexpected service requirements while maintaining profitable operations.
 
If too many technicians are brought in, profitability drops. If too few technicians are available, customers can become unhappy, contractual commitments may be missed, financial penalties may apply and emergency service calls may not be possible.
 
The key is to anticipate the number of technicians needed and optimize their schedules to ensure all customer requirements are met.
 
Here are 4 tips to do that.
1. Accurately forecast service volumes
To optimize scheduling, it's critical to know how many service calls you're going to have to manage and how many technicians you'll need to mobilize.
 
First, create a forecast of the number of service calls that will need to be managed over a given period, whether it's a day, a week, a month or a year. To do this, you need to establish averages based on service history. Then, ask yourself how many technicians you'll need to meet that level of demand, and which skills will be required. Most technicians don't have the skills required to perform every type of service. You should be able to assign technicians to jobs based on the skills and level of experience needed as well as other requirements.
Use service history to predict future requirements
While you don't have a crystal ball to predict the future, you do know that emergencies and unexpected complications will disrupt service schedules. Data is your key to predicting the future. More accurately, historical data. With access to historical data, you can analyze it, determine averages and anticipate future requests to better align schedules with requirements.
 
For example, you can categorize the different types of service — troubleshooting, maintenance — that technicians had to complete. You can also determine the average amount of time spent on each service call, how many spare parts were used, the number of service calls completed in a day, and other key facts.
 
Clearly, if you're still managing your operations with paper, this will be a very tedious and time-consuming task. However, if you have a field service management solution with analytics capabilities, such as Praxedo provides, you can get the data you need in just a few clicks.
2. Assess available resources
Ok, so you've now calculated your averages and can predict the number of expected and unexpected service calls you'll likely have to manage in your next schedule for technicians.
 
Consider technicians, skills, vehicles, spare parts …
Now, you need to ensure you have the right resources. How many technicians are available to work during the scheduled period? What are their skills in relation to the types of service that must be delivered? How many vehicles are needed and available? What is the status of spare parts stocks for any given type of service?
 
You need to know which resources are available before you can allocate them to a particular service call in the schedule. Knowing how many resources are available also lets you determine whether the number of available technicians matches the number of anticipated service calls. Finding the right balance between available technicians and anticipated requirements helps you ensure that service calls are responsive, productive and profitable.
3. Allocate resources in the most efficient way
Once you have a good view of the available resources, the next step is to allocate them in the most efficient way. This step depends on the period for which you are scheduling — long term, medium term or short term. Some service activities must be scheduled over the course of a year, others over the course of a month or a week, and others by the day.
 
Here are actions you can take to optimize schedules, whether you're planning for the short term or the long term.
Recruit new technicians
If you're creating long-term schedules and find you don't have enough resources to meet demand, you'll need to recruit new technicians. Keep in mind that recruiting is expensive and time-consuming. But, if you're dealing with a lot of service requests, you're going to have to take on the task.
 
If you're creating short-term schedules and find you don't have enough resources to meet demand, you can use freelance technicians or contractors to supplement in-house resources. This approach is less expensive than recruiting and training new employees so is a good option if you need a short-term solution.
Analyze forecast and capacity gaps
You need to analyze the difference between your service forecasts and your existing capabilities. Remember that you must respect your contractual commitments with customers and prime contractors so it's very important to ensure you have the necessary resources.
 
Determine where in your schedules you face a risk of not meeting contractual commitments and prioritize resources accordingly. For example, if one of your commitments is a guaranteed fix time of 2 hours, and you don't have the resources to complete the job in less than 4 hours, you'll need to reallocate resources to ensure you stay within the 2-hour limit.
 
Reworking your service schedules will take some effort, but keep in mind the main goal behind all of this effort is customer satisfaction.
4. Make it all happen: go digital
If you're still using Excel and paper work orders to manage service scheduling and operations, you're bound to have difficulty being responsive and creating efficient schedules. On the other hand, if you adopt field service management software, you'll save considerable time.
 
Take the time to learn about field service management solutions, such as the one offered by Praxedo. You'll quickly see the software changes your perception of your role as a scheduler or dispatcher.
 
You competitors have likely already made the move to digital operations. What are you waiting for?