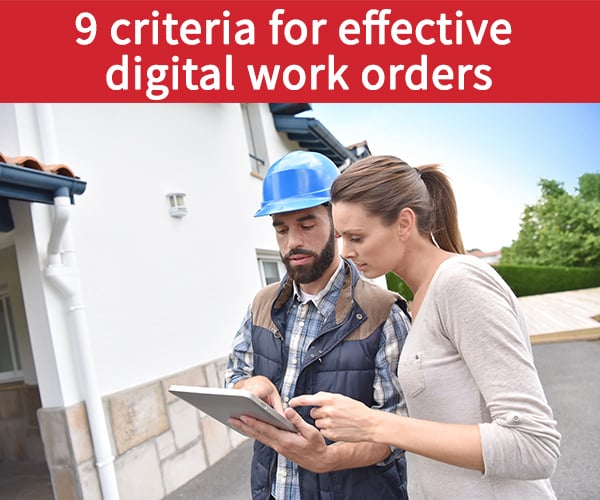 Software
Work Order Management
Mobile App
Gestion d'interventions
Field service success: Ensure electronic reports contain these essential criteria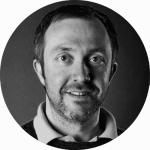 Romain Vinet
The main problem with paper work orders is that they are often incomplete and missing critical information. Once you move to fully paperless operations, you'll notice the advantages of a smooth flow of data. Electronic reports open the door to many new possibilities. For maximum efficiency, you must ensure your electronic reports contain essential criteria for field service success.
 
Work orders: The most useful information for technicians
With digital transformation in full force, your field technicians no longer need to carry paper work orders. They have all of the information necessary for successful delivery of service calls on their mobile device. Here are the 9 types of information that must be provided to field technicians on the road.
 
1 – The service location
This is the most important piece of information because it determines the route each technician takes. The exact location where service is required must be on the work order and visible on a map. GPS technology can then be used to guide technicians to the customer site. The Praxedo solution supports navigation using Google Maps, Waze, TomTom and Plan.
 
2 – Customer contact details
If technicians need to locate someone at the site, they may need the person's name and contact details, such as a phone number. If the person is someone other than the customer, that person's contact details must also be included.
 
3 – Site access details
Field workers have no time to lose. Your contact center must provide all of the information required to quickly access the equipment at the customer site. This includes access codes, person to call, instructions such as which floor to go to and how to locate the basement, if necessary.
 
4 – The date and time of the appointment
To meet contractual obligations, technicians must know what time they are expected to arrive. That means the work order must include the time range selected by the customer and the estimated task duration. If your work order system is integrated with your information system, automated alerts can advise dispatchers of potential delays and send the information to customers.
 
5 – Detailed service description
The more precise the description of the problem or failure, the better prepared technicians will be. For example, they should be able to identify the spare parts that are needed or ask for additional help in advance.
 
According to Information Age, access to real-time information is "no longer a nice to have" and is a clear differentiator between leading companies and everyone else.
 
6 – Necessary equipment
Service technicians may require many different pieces of equipment to access work sites and to ensure the safety of customers and themselves. To avoid a second visit and reduce risk to field workers, all equipment requirements — ladders, hard hats, work gloves — must be included in the work order.
 
7 – Useful spare parts
The work order must accurately describe the problem so the spare parts needed to resolve the issue can be easily identified. If the affected equipment makes use of new technologies such as IoT, make sure to include any self-diagnosis information provided so technicians have all available details.
 
8 – Useful attachments
When you include relevant attachments such as site maps, images of damaged equipment, diagrams and tutorials, technicians have a better understanding of the situation and are more likely to be able to resolve the issue on the first visit.
 
9 – Customer history
One of the advantages of integrating your field service management software with your information system is that technicians can access service history details, better understand the issue and adapt the service they provide to customer requirements. Access to service history is particularly helpful when the exact nature of the current problem is not clear.
Key criteria for complete work orders
When technicians finish a service call, they complete a report that helps to improve communications with the customer and enables service tracking. This same service report is also a source of valuable data that can help you assess your performance and analyze your processes. But to do this, the report must be completed properly. Here are several steps you can't afford to miss.
 
Service call duration
With software that optimizes technicians' journeys, field workers no longer need to return to the office to indicate the number of hours they spent on a job. Now, they can log their start and end times for a job in their mobile application and details can be tracked using geolocation.
 
Service call status
Before leaving the job site, technicians must indicate on their report whether the situation was resolved and if so, how. This information is added to the service history so it can be used during future visits or to plan maintenance activities for the equipment. If the situation was not resolved, the technician must also indicate that fact so that a secondary visit can be scheduled.
 
Photo documentation
Some mobile applications enable technicians to add photographs to their reports. This helps to avoid contentious situations because the geocoded photos are proof that the equipment was indeed serviced at a specific place and time. The same photos can also be helpful when preparing for future visits. With the Praxedo solution, technicians can even annotate photos using a touchscreen interface.
 
Spare parts list
Technicians' reports should include the type and quantity of spare parts used on the job. If your field service management solution is integrated with your customer relationship management (CRM) software, you can use this information to automate inventory management.
 
Preformatted report forms
The most advanced field service management applications support preformatted reports that automatically provide additional relevant fields to be completed based on technicians' responses to questions.
 
Minimalist forms
The main goal of moving to digital report forms is to save technicians time by eliminating the need to deal with repetitive administrative tasks. As a result, it's very important to customize the fields on the form so only those that are relevant to the specific service activity or type are displayed to the technician.
 
Minimum text input
For similar reasons, it's important to use drop-down menus and checkboxes rather than text input boxes. Even when text input provides useful details, it can't be dealt with by a computer, isn't measurable for billing or statistical purposes and must be processed manually.
 
Customer signature
Choose a maintenance application that can automatically manage the information captured in the report so you don't need to validate reports from your field teams one by one. Each technician can record the customer's electronic signature after the service call to accelerate the billing process.
 
Leave the last word to the technician
To motivate your field teams and increase productivity, give your technicians some autonomy. For example, allow them to coordinate some service calls and to reschedule appointments they cannot keep themselves.
 
Since technicians are in direct contact with your customers, allow them to share useful information with your sales department. Technicians are often in a good position to identify cross-selling and up-selling opportunities.