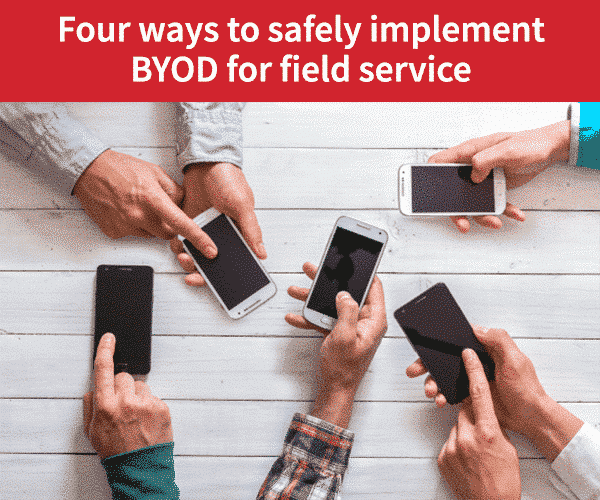 Technician
Field Service Management
Mobility
Four ways to safely implement BYOD for field service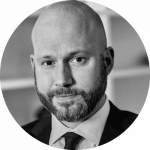 Kieran Le Peron
What is Bring Your Own Device?
The modern American workplace has come a long way. While we used to all just bring our own lunches, we are now all bringing our own devices.

The concept, also called BYOD, has several benefits: it lends itself to convenience, can boost productivity, and might even make your employees happier.

It is also growing rapidly in popularity; one study found that about 74% of organizations currently have or plan on implementing some sort of BYOD policy.

And, with demand for convenience and field service opportunities being constantly on the rise, it is unlikely that BYOD in the workplace will go out of fashion anytime soon. But, despite some obvious upsides, a BYOD management policy also comes with some major risks for many organizations. Devices can get lost or be stolen. Unfortunately, not every employee can be trusted with delicate information. Unsecured networks and hacking put all of us at risk every day when we rely on technology.

Even with all of these potential hurdles, however, the pros and cons of BYOD can be balanced in a positive way. Below, you'll find 5 BYOD policy examples for field service in your own organization:
1. Have a policy
The easiest way to make sure all of you employees are on the same page when it comes to safely bringing your own device for field service is to have a concrete policy in place. Your policy can (and should) dictate everything from which devices are allowable to what happens with information once an employee leaves or is terminated.
Policies will vary by business, but some key items to consider include the use of a specific app or software, cloud storage for all obtained data, and safety measures such as passcodes or two-step authentication for any device that stores company information.

By outlining how the BYOD process will work for field service and establishing a policy upfront, you can be sure all your expectations for BYOD safety are being met, and all of your employees can fully understand what those expectations are. It's also important to explain what is BYOD and why is it important, as well as the advantages and disadvantages of BYOD in the interest of full transparency.
2. Invest in mobile device management software
Deciding to use a mobile device management software can seem a little daunting. After all, you have a dozen other software suites to keep up with, and implementation of an MDM might feel a little bit like being Big Brother to your employees.

But, when an employee is using a personal device for field service, it is necessary to think of that device as company property.

MDM software will allow your organization's IT department to better monitor and manage the mobile devices an employee is using for field service, which means better technical support for superior performance, more efficient connectivity and sharing with the company, and more security for the personal device and the sensitive information on it.
3. Establish some security standards
Not everyone has the same standards for mobile device security. Leaving the safety of company communication and data on personal devices up to individual employee is a recipe for disaster. Instead, it is important to establish some upfront security standards that need to be met in order for a personal device to be used for field service.

This should be included in the formal BYOD policy, and it can include items like requiring certain standard passwords for access to company information, a lock screen for the device as a whole, restriction of certain and apps and websites during work hours, and consent about who can access company information on a personal device.

If your company uses a mobile customer relationship management (CRM) software in conjunction with their FSM software, you'll want to ensure that all customer information stays within that app. Many CRM and FSM mobile apps have specialized security features your team can activate to ensure data stays put, but if you need recommendations for a great mobile CRM, find out more information here.

Again, while these policies might feel overbearing and over-the-top, implementing such guidelines on the front end is worth it when the consequences of having no standard security measures could be so dire.
4. Be upfront about use and willing to provide
A BYOD policy is often a serious convenience for your employees. After all, they only have to keep up with a single device on a daily basis, and it is one that they picked out and are comfortable with using. However, it is important to remember that typically BYOD advantages and disadvantages tend to weigh in your favor.

You are saving money by not needing to provide devices for your field employees, and the wear and tear on your employees' devices should not be disregarded. Because of this, it is important for you, as an employer, to be willing to work with your employees to make their BYOD experience a good one. This can also allow you to ensure that the experience is safe for both the individual employee and the company as a whole.

Providing reliable (and secure) internet to all BYOD employees is the first step in making sure your company's data stays secure and is manageable on your end. Offering other network settings such as email and proxy servers, if needed, helps take some of the burden off your employees and enables you to have more control over how company data is being collected, shared, and stored. BYOD benefits can be a boon to your organization!