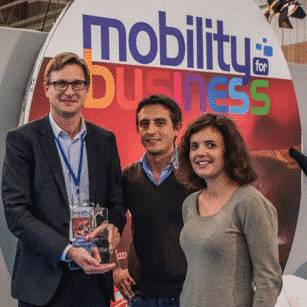 Praxedo and HomeServe win the trophy for the best « field worker » project at 'Mobility for Business' trade show.
Praxedo, the French leader in field service management and HomeServe, a leading services company for home emergency repairs business (plumbing, electricity, gas, home automation) have been rewarded by the prestigious jury of the "Mobility Awards" for an innovative project in the area of field mobility.
To help the digital transformation of its business, HomeServe has chosen Praxedo for a large part of its network of service providers, consisting of 700 local companies. 1,000 HomeServe certified technicians will be given a solution for the dispatch of work orders in the field. They will benefit from a more efficient scheduling (more than 110,000 work orders annually), paperless service reports and real-time data exchange between them and HomeServe, their contractor.
"With Praxedo, the project had a quick start. No IT infrastructure was needed and only a few days were required for the setup. With this time saving, we were allowed to focus on business processes, change management and internal IT developments. The tool will be progressively deployed within our network from December 2016. This is a significant step in our company's digital transformation plan. We are convinced that this solution will enable us to best meet our customers' expectations, and to provide the best possible support for our service providers, "said Jean-Marc DESSALAS, HomeServe CIO.
Praxedo, a cloud-based solution available from a simple Web interface and from any type of mobile OS (Android, iOS, Windows Phone) has been able to respond to all HomeServe issues.
The 2016 "Mobility Awards" rewarded the overall project and the effectiveness of its implementation. The success of the project was ensured by a communication and training plan deployed by HomeServe. It helped secure the project endorsement by end users.
"We are proud to receive this Mobility Award, which strengthens our market position as a leader in Field Service Management and rewards the adaptation work we did for HomeServe. The easy access to our SaaS platform and our multi-OS application will greatly improve data exchange between HomeServe and the 700 companies of its network, while ensuring optimal navigation" explains Jean de Broissia, Praxedo CEO.