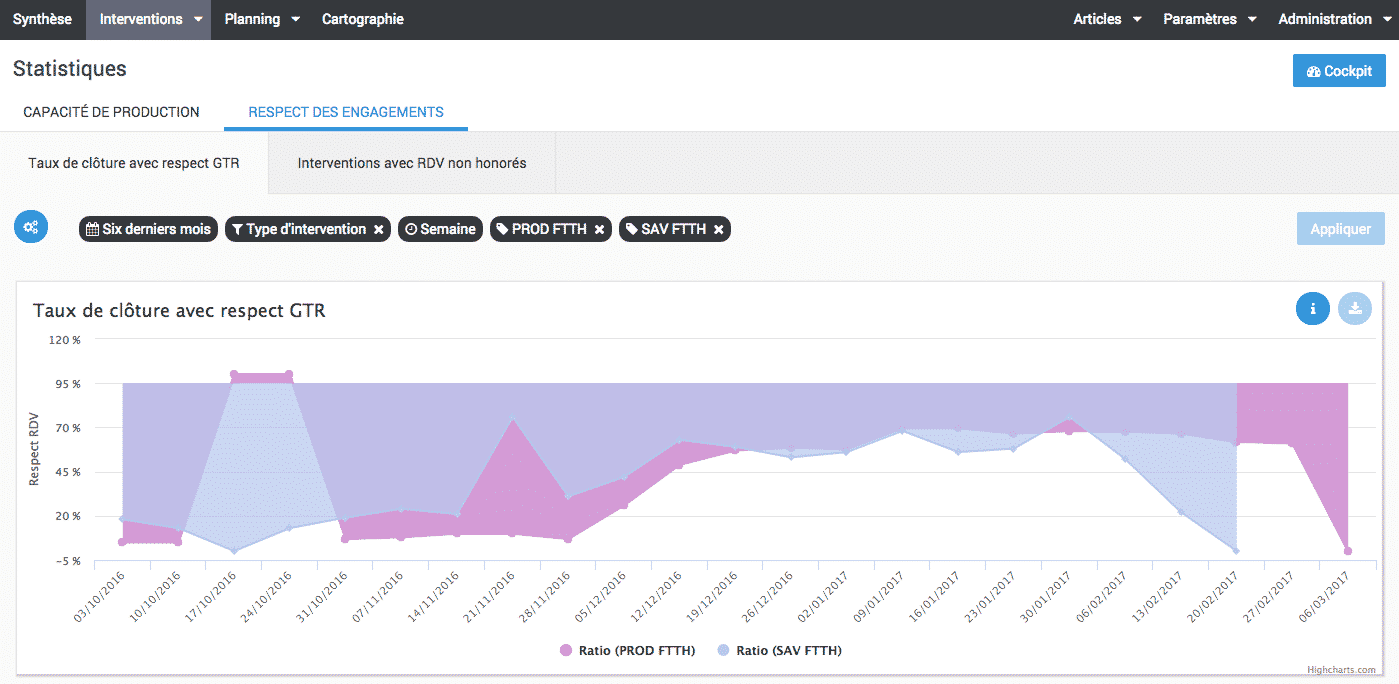 Praxedo Spring '2017 is now available
Since April 24, 2017, Praxedo users have access to the new Web features of the new Spring 2017 release.
Focus on the new developments:
New 'Analytics' module: Watch your KPIs in your Praxedo account
Praxedo now offers its customers a new module called 'Analytics' allowing them to track and analyze their business Key Performance Indicators in real time.
List of all indicators available :
number of completed jobs
number of jobs observing initial scheduling date, so you can ensure your ability to manage operations and not be overloaded as you go along,
average real duration of a job versus estimated duration of a job type
ratio of jobs respecting recovery time guarantee: to measure the compliance of your contractual obligations to customers,
ratio of jobs respecting meeting time.
This list of ready-to-use indicators will be enriched over time.
The 'Analytics' module is available for Praxedo Premium users only.
Suggest automatically meeting time slots to your customers:
With Praxedo new Web Services, you can retrieve in one click, out of your Information System, a list of optimized time slots to suggest to your customer, taking into account your existing schedule and parameters.
Once the time slot is selected, the job information is sent directly to your Praxedo schedule.
The list of time slots returned by Praxedo depends on the parameters you set beforehand:
job type
the size of the geographical area around an address,
the time range desired by the customer.
This feature is available in the 'SmartScheduler' module for Praxedo Premium users only.
Developments of SmartScheduler, the module for route algorithmic optimization
With SmartScheduler, it is now possible to split up the meeting times from the contractual times ("to be completed before"), or to decide to apply a maximum delay to meetings.
In addition, it is now possible to withdraw one job from a suggested route.
With this development, routes that were previously ignored can now be partially scheduled, leaving only a small number of jobs to be scheduled manually.
The 'SmartScheduler' module is available for Praxedo Premium users only.
Manage your call scripts in Praxedo
Praxedo already allows you to associate notes with a job. It is now possible to add notes that incorporate dynamic call scripts. This feature can be useful if you need to re-qualify a meeting before sending out a technician in the field, or if you wish to make out a satisfaction survey after a job completion.
The information entered can be viewed by the scheduler in the job details.
You have a project or wish to find out more about all new features of this new Spring '2017 release, contact us.