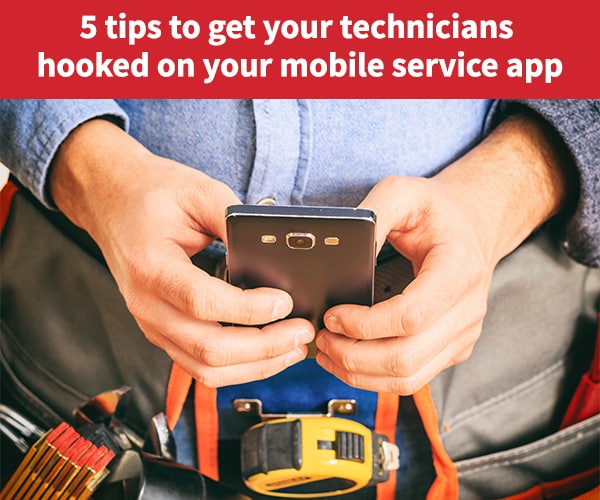 Technician
Software
After-sales service
5 tips to get your technicians hooked on your mobile service app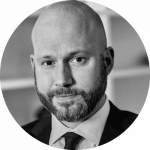 Kieran Le Peron
Every day, your field service technicians face challenges while they're on the move. Sometimes, they can't get in touch with a customer. Other times, they don't have the right information, the right tools, or the right equipment to fix the customer problem. A software-as-a-service (SaaS) field service management solution simplifies life for your teams in the field and in the office. However, to get the most from your field service management solution, you need to make sure that your technicians use the mobile service app while they're in the field. Here are 5 tips to get your technicians hooked on using the app.    
1. Involve technicians from the beginning
Adopting service management software that helps technicians work more efficiently in the field is a big change for your teams. To ensure that technicians make the best possible use of the new software, you need to properly prepare them for the upcoming changes to the way they work.  
Start talking right away
To help your technicians become comfortable with the idea of using a mobile service app in the field, start talking to them about the idea as soon as you begin your search for field service management software. Ask them what features they would like it to provide, what information they would like to access, and how they would like to start using the mobile app. Taking this approach helps to ensure you choose a solution that fits the needs of all technicians — those who have extensive experience in the field, those who are new to the job and those who are already comfortable using mobile apps.  
Train your team leaders
Technicians are far more likely to adopt a mobile service app if they know how to use it. Make sure team leaders are fully trained in the new application so they can help other team members learn how to make the most of its features.
2. Tell technicians about the benefits they will enjoy
Once you've completed the preparation stage, tell technicians about all of benefits the mobile service app will bring to their daily lives.  
Digital life is much easier to manage
With anytime, anywhere access to all of the information they need on their smartphone or tablet, technicians can become more responsive, productive and efficient. For example, they can:  
Manage their own schedule

See work order details

Figure out which parts and materials they're likely to need

View the work history for the equipment that needs service

Send and consult field service reports
The move to a paperless work environment also means that documents can't be lost. And, because technicians use a customized form to update their progress in real time, data entry errors and loss of information are far less likely.  
Travel routes are optimized
With a mobile app and the GPS capabilities in their vehicles, technicians can quickly see their itineraries and details about current traffic conditions to keep travel times to a minimum. The SmartScheduler software from Praxedo lets dispatchers plan the ideal travel routes for technicians. With the Smart Scheduler, technician routes are automatically optimized using metaheuristic algorithms that avoid unnecessary trips back to the service center.
3. Get the right information into technicians' hands
According to an Aberdeen Group study called "Field Service 2014: Access to the right information empowers a results-driven workforce", leading field service management companies understand the importance of sharing information in real time and constantly update their databases for technicians. As a result, they are more flexible and responsive.  
Communicate to increase productivity
Give technicians access to all of the information they need in just a few clicks on their smartphone or tablet. SOAP API Web Services make it easy to integrate your mobile service app with your enterprise resource planning (ERP) or information system to get the right information flowing between the right people in your organization in real time.  
Share knowledge to improve performance
There are two main ways that using a mobile app to share information helps technicians perform better in the field and build their skillset. They can: Exchange advice and knowledge with other technicians about the best ways to service similar types of equipment Get fast and easy access to information about how to fix common problems
4. Reduce stress and uncertainty
Technicians work best when they can focus on what they're doing and are not distracted by problems or difficulties that increase their stress level. Using a mobile service app helps ensure that technicians are always at their best.  
Give teams reliable access to information
Technicians need reliable access to information no matter where they're working — even if it's in a basement or an area with no internet coverage. The Praxedo mobile service app gives technicians continuous access to information whether they're online or offline.  
Get the right people involved in emergencies
Emergency situations can put a lot of pressure on technicians, especially if they're forced to work out of their depth. A mobile service app that shows technician locations allows dispatchers to instantly identify the closest available technician with the right skillset to streamline management of emergency situations.  
Protect teams in case of dispute
Service management software that supports location- and time-stamped photos of service results helps to prevent misunderstandings with customers about what work was done, when and where. Technicians and customers have proof that the work was properly completed.
5. Empower technicians
Technicians that have access to a reliable field service app and updated information in real time can operate much more autonomously and efficiently. With the Praxedo mobile service app, technicians in the field can even add service calls to their schedule based on their location and availability.  
Choose a solution technicians want to use
Making sure you choose a field service management application that your technicians like using requires some effort on your part. But it will simplify your processes and provide easier access to information to reduce stress and empower technicians so they can work more productively.