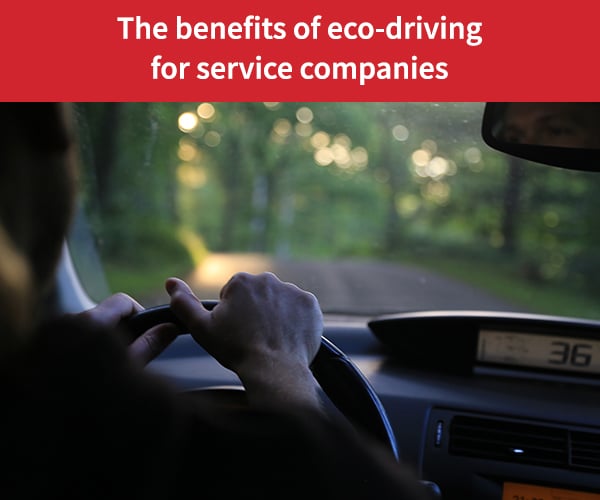 Software
Field Service Management
Logiciel
eco-driving
What eco-driving means and how to implement it at work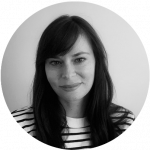 Tania Piunno
For any service organization with field technicians, optimizing routes and eco-driving have many benefits, for both the company and the environment. With a business strategy built around eco-driving, service companies can strengthen their brand's image on environmental issues, and profit from cost savings every time they fill up.
Eco-driving reduces fuel consumption and CO2 emissions
In most cases, field service professionals are not yet fully aware the problem exists or the issues associated with it. However, before we get into the benefits of eco-driving for service companies, let's define what eco-driving is.
What exactly is eco-driving?
Eco-driving is about optimizing technicians' behaviors behind the wheel of their service vehicle. The goal is to use certain driving techniques and to minimize sudden braking or acceleration to maintain a constant speed throughout the journey as much as one can. This approach to driving is known to reduce fuel consumption and CO2 emissions, which is a key driver of climate change.
Recently, Transurban conducted a survey that concluded this new way of driving does in fact work. At the end of the trial, it did prove to reduce fuel consumption and carbon dioxide emissions. Their survey resulted in 1,559 litres of fuel saved, and 96% of trial participants even reported improvements to their driving. Read the article here.
What this means for technicians and service companies in general
When you drive better, your vehicle performs better. Since drivers aren't pushing vehicles so hard, they hold up longer on the road. As a result, vehicle maintenance costs are reduced.
Not only does eco-driving help limit greenhouse gases responsible for global warming, it keeps technicians in the driver's seat safe!
Service companies that have implemented an eco-driving strategy gain key benefits
There are several reasons why more and more service companies are implementing eco-driving into their business strategy.
It improves technician safety while on the road
Technician safety is obviously a top priority. It seems however, that not enough service companies are educating their mobile employees on the potential risks on the road. Road accidents are known to be responsible for more than 50% of workplace-related fatalities.
Smoother, more proactive driving helps to reduce the number of traffic accidents. Although there isn't an official number, there's often talk about a 10 to 15% drop in accidents when technicians are mindful in their driving tactics. That means service companies can play a key role in mitigating car accidents and benefit from fewer claims against its fleet. If they train employees early-on and encourage them to adopt economical driving, they will have fewer potential injuries and longer lasting vehicles.
It reduces fuel consumption by up to 25%
A key advantage of eco-driving is lower fuel consumption and a reduction in fuel costs. While gas prices in the US are skyrocketing, service companies are prioritizing this initiative. To get a better idea, AAA lists national average gas prices per state here.
Research shows fuel consumption can be reduced by 25% when driving at a more consistent speed and limiting acceleration and braking. This is how drivers are helping their companies save money on fuel.
It lengthens the life of company cars
Well-maintained vehicles consume less and are less likely to break down. By switching to smoother driving, technicians reduce strain on company vehicles and help keep them performing well and in good condition.
It helps reduce the negative impact on the environment
Cars with internal combustion engines generate CO2 emissions. This impact on the environment can affect the company's brand image. It's only natural that employees and potential customers are more drawn to companies that care about the environment we live in and others' well-being.
How to implement an eco-driving strategy
For service companies to successfully implement an eco-driving strategy, technicians must "buy-in" to the initiative. To gain their support, they must be made aware of the issue, properly trained, encouraged and motivated to adopt best practices.  
1. Raise awareness among mobile maintenance technicians
For maximum adoption, employees must fully understand and participate in the project. After all, it's technicians who spend time driving dozens of miles every day to get from one service site to another. To be frank, nothing will happen unless they're convinced the process has value.
To get their support, it's important to clearly explain to technicians what eco-driving is and to map out what the benefits are. It's a good opportunity to remind drivers that eco-driving helps protect their safety and well-being at work.
2. Teach them eco-driving
Companies that want their mobile technicians to adopt eco-driving techniques can choose from several different training options. While training costs money, it also saves money, for example, by making it possible to negotiate better insurance rates for vehicle fleets. Eco-driving is also a good way to increase driver awareness beyond corporate messaging. Employees have a direct connection with the issues related to their driving experiences and the benefits of eco-driving.
3. Set up internal eco-driving challenges
Once a company has adopted eco-driving and employees are informed and trained, it's important to bring the initiative to life. Through telematics and IoT solutions, the services sector can actively collaborate with car manufacturers to offer long-term monitoring of eco-driving initiatives, using indicators and dashboards that are tied to a smartphone application.
This information helps companies:
Manage time on the road and driving behaviours (manage driver deviations with ratings)
Monitor CO2 emissions and fuel consumption
Manage vehicle maintenance
Setting up competitions and challenges around eco-driving can also be a good way to keep the fire burning.  
4. Optimize travel times for service technicians
One of the technical prerequisites for executing on an eco-driving strategy is to deploy a field service management solution. Companies that still manage field technicians using paper files and Excel spreadsheets will have a hard time achieving the organizational flexibility needed to effectively manage employees' movements in the field. Field service management software provides several operational advantages to address these challenges:
The route planning interface allows technicians' schedules to be organized in the most efficient and realistic way possible.
Customer and technician locations can be taken into account in real time when coordinating and managing service calls. Field service management software like Praxedo, can be used to analyze travel distances and times between sites.
With the right scheduling tool, technicians' work orders can be prioritized based on the situation in the field. This makes it easy to add an emergency call to the schedule and to shift an assignment from one technician to another if he or she falls behind and another technician is available to jump in and get the job done faster.