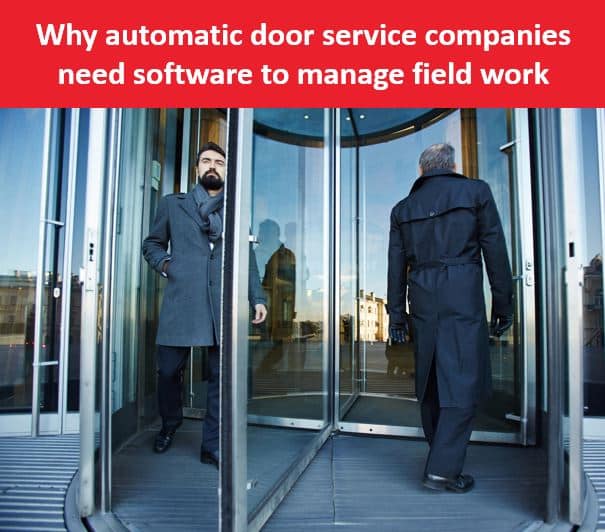 How software helps manage automatic door installations and maintenance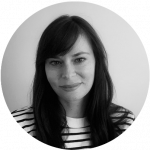 Tania Piunno
The demand for automatic doors and gates is rising and the need for modernization in this industry has two primary drivers – technological advancements and the inception of Covid-19. Whether they are installed for security, accessibility or hygiene purposes, automatic doors help building owners comply with current sanitary regulations and keep people safe.
As a business owner that installs, repairs, and maintains automatic doors – sliding, revolving, hands-free and electrical – you might be looking to simplify the way your field technicians work or improve service quality as more requests pour in. With additional operational challenges more recently in play, the only way to improve your field service management (FSM) is to use powerful digital tools that help both automate and facilitate the service delivery process.
FSM software was designed to better manage maintenance activities, assign and allocate jobs, schedule emergency appointments and empower your workforce with easy-to-use mobile tools. Implementing field service software has various advantages and is being used to manage work in this sector more than ever before.
The acceleration of automatic door installations due to the coronavirus
Hygiene and automation
Highly populated areas and buildings with lots of foot traffic such as schools, banks, and hospitals for example, can increase the risk of exposing oneself to a viral infection. Frequently touched surfaces like door handles, and switches are known to be culprits of the transmission. Technical solutions that reduce surface contact are gaining steam as people enforce stronger sanitary measures in public institutions.
In this Covid-era, upgrading to automatic doors and gates makes buildings a lot safer and more accessible. Subsequently, building owners across North America are either modifying their existing entrances by adding automatic components or replacing them altogether. Service companies for these types of automated entrance systems are seeing a spike in customer requests, thus making the process of managing work orders more problematic.
Security and accessibility
Many of these buildings need secure entrance control mechanisms, and the pandemic has only amplified this need. Fraudsters and thieves see the crisis as an opportunity to play on people's vulnerabilities. Theft has gone up drastically as society has become more susceptible to believing scams and giving away their personal information. In fact, a Toronto lawyer says that in her 15 year long career, she has never seen such a huge increase in fraud cases.
Institutions like banks are ramping up their security practices and doing so by upgrading to automatic doors and gates. Moreover, contactless security systems are being installed to help prohibit unauthorized entry or monitor access.
Field technicians who install and maintain these systems need efficient tools to help them take the most optimal routes so they can respond to urgent requests in a timely manner. Dispatchers require scheduling with more intelligence to optimize workloads and help field techs maximize those response times.
Getting the right software, benefits the entire service company
Service organizations in automatic doors need software to help them simplify tasks for employees in the office and the field, simultaneously. As a mobile technician, you want customizable forms for each type of work order, to be able to submit the data collected more rapidly. As a dispatcher, you need advanced scheduling functionality to make changes in a few clicks and provide techs with more optimal route information. As a business owner, you want to streamline admin tasks for your employees and view insights in one place for better reporting.
Challenges for automatic door service companies
When using paper forms, forgetting to check off one or more boxes while on the road is inevitable. So is misplacing the work order report altogether. Handwriting might be difficult to read, causing potential errors and misunderstandings once the technician returns back to the central office.
Supporting your mobile technicians at every step of a work order
When the company goes digital with field service software, work order reports can be configured to make administrative tasks easier for your mobile workforce. Complying to regulations for different door types such as swinging, folding, and sliding doors is done directly in the app to ensure every rule and exception is followed.
Mandatory fields
Certain fields can be made mandatory, so you don't have to worry about technicians not submitting the correct information. Additional proof to protect the company from disputes and guarantee the work meets quality standards can be provided through time, date, and location-stamped photos. In the event of a second visit to the site, previous images and documentation can easily be retrieved to properly diagnose the new problem.
These features are especially helpful in situations where regulatory compliance is expected. Automatic door compliance can be extremely complicated without a mobile tool to document when specific safety features are being met during installation and repair.
Addressing health and security issues post Covid-19
The future is bright for companies that service automatic doors and gates. Smart sensors are being integrated into entrance systems so access points only open based on certain criteria in order to keep people safe.
Imagine being able to verify whether or not a person's temperature is too high, identify that someone is wearing a mask, or that he or she used hand sanitizer prior to entering. This technology is well on its way to becoming mainstream. Access doors could also be programmed to automatically deactivate when the number of people inside reaches maximum capacity. Service organizations will undoubtedly need the right software to better manage the increase in call requests for maintenance and installation and keep their customers happy.