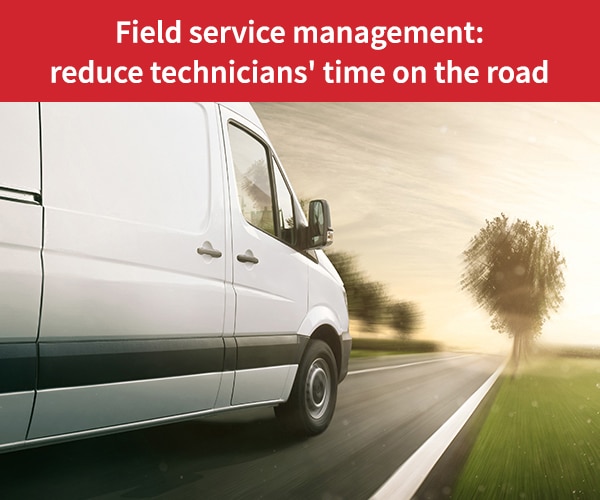 Technician
Field Service Management
Logiciel
Artificial Intelligence
Productivité
Geolocation
How to reduce time on the road for field technicians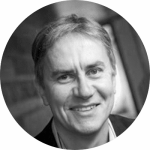 Xavier Biseul
Smart service scheduling that incorporates traffic information and highly precise spare parts management. This is just one of the ways new technologies can significantly reduce the amount of time technicians are on the road . And everyone benefits.
 
Being on the road is an integral part of the job for field technicians. Travel time can consume one-third to one-half of their working day. Travel is a burden that technicians would happily do without. Being on the road is exhausting. It increases stress, the risk of accidents and the size of a service company's carbon footprint. As a result, it's important to take every opportunity to optimize technicians' travel times.
 
Twenty years ago, route planning was still done in traditional ways. Each morning, technicians would go to the maintenance company's head office to learn where their service calls would take them that day. They left for the day with a road map, even if they had to return to the service center to deal with unforeseen events or pick up spare parts.
Evolve from paper scheduling to smart scheduling
Since then, digital technology has come along and there's been significant progress in scheduling. Excel spreadsheets and paper schedules have given way to field service management software that optimizes routes and enables schedule changes throughout the day so unexpected events can be dealt with.
 
Dispatchers can reschedule service calls, change technicians' schedules, and reassign service calls to other technicians in just a few clicks. If a new service call can be added to an already-scheduled route, the solution automatically suggests an appointment time. All schedules are available online, updated in real time, and can be seen by all stakeholders on any device.
Optimize travel with geolocation details
Route optimization is only possible when you know where your field teams are. With geolocation information, dispatchers can use mapping software to monitor technicians' activities in real time and determine whether technicians are available, on the road or in a service call. And, they have an overall view that allows them to react quickly when unforeseen events occur.
 
If an urgent service call needs to be assigned to an available technician, the dispatcher can see who is closest to the affected site and has the skills required for the job.
Incorporate multiple types of scheduling
The field service management solution must be able to handle different types of scheduling. It starts with constraint-based scheduling that considers factors such as the time slot the customer has requested and the contractual service level agreement (SLA) for a particular type of equipment
 
Artificial intelligence (AI) is a life saver for field service providers that manage a large number of service requirements and have significant operational constraints. AI functions like an intelligent assistant, taking all of the various factors into account before suggesting the optimal schedule to minimize travel time and balance workloads among technicians.
 
But, dispatchers always have the last word. They can validate the overall schedule the AI technology provides, or modify the criteria and have the technology update its calculations and generate a new schedule.
 
The solution must also be able to weave preventive maintenance tasks into technicians' schedules by automatically scheduling recurring activities for a given site, or for equipment, at a pre-defined frequency and time.
Use a mobile app to keep technicians informed
Schedule updates are sent to field technicians' mobile applications in real time so they're immediately aware of any changes to their schedule. Technicians can also use the app to view their service calls for the day, the week or a specified period.
 
Integrate traffic information
Because the mobile app knows the state of road traffic, it can help technicians avoid traffic jams. Some field service management solutions include navigational assistance using Google Maps, Waze, TomTom or Apple Maps. This technology uses the customer site address or the geographic coordinates of the mobile device to guide technicians from one job to another.
 
To optimize vehicle geolocation capabilities, a good field service management software provider offers native connectors for fleet management solutions. For example, Praxedo provides connectors for the TomTom WEBFLEET, Orange Fleet, OCEAN and Fleet Freedom solutions. The GPS information these solutions generate goes directly into the field service management solution.
Incorporate augmented reality for remote collaboration
Other digital technologies can help prevent technicians from making unnecessary return trips to the service center. That's because all of the drawings and technical manuals required for the job — and to resolve the issue on the first visit — are on the technician's smartphone or tablet.
 
With an augmented reality headset, technicians can even see contextual information such as equipment health data or a list of tasks that's superimposed on the real world. All while keeping their hands free.
 
Enable remote collaboration
If technicians still cannot resolve a technical issue, they can use videoconferencing or instant messaging to get in touch with experts back at the service center. The two parties can use a whiteboard to share, annotate and comment on photos and drawings to resolve the issue.
Improve spare parts management
Optimizing management of spare parts inventories can also reduce travel times. If technicians don't have the required parts in their vehicle, they can query the system to find the nearest stock locations and available quantities. This saves them from having to return to the central parts depot.
 
Advances in additive manufacturing also bode well for the future because technicians will be able to download 3D print files for the missing part and print it right on site.
 
In the near future, other innovations are also expected to further reduce, or radically change, travel times. For example, autonomous vehicles could save technicians working time. Because they're freed from driving, they can talk freely with customers, learn more about customer issues and even check out videos of the defective equipment.