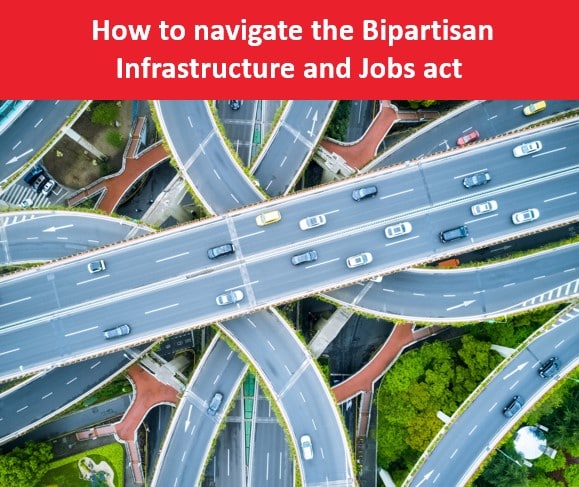 Field Service Management
Field Service Software
telecommunications
bipartisan law
Navigating the Bipartisan Infrastructure and Jobs act with field service software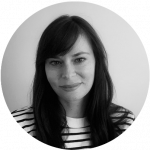 Tania Piunno
The next few years will be critical for transformation in the United States, with the establishment of the $1.2 trillion Bipartisan Infrastructure and Jobs Act to "deliver results and rebuild our crumbling infrastructure."
 
It's well known, especially among local governments, telcos, field service organizations, and other infrastructure builders that this one-in-a-generation legislation is only the beginning. Communities throughout the country are facing high-stakes challenges in the coming years. Success depends on how well on-the-ground teams can plan, mobilize, and execute — to make the greatest possible impact with federally allocated resources.
Given the scale of the Bipartisan Infrastructure and Job Act, the legislation is understandably complex and tough to follow. What will these big-picture changes look like on the ground? In the field?
Fall 2022 update: Some answers are beginning to surface
What we do know is that telecom field service management (FSM) software is helping the industry navigate through it. Mobile tools are helping field technicians build out their last-mile deployments, for more resilient networks and infrastructure.
Here's a look into some of the programs that are emerging as of Fall 2022. The curations below are helpful for establishing a landscape-level view of the market.
High-level funding facts
1. Government departments are entering into collaborations to support infrastructure revitalization.
The U.S. Departments of Transportation and Energy have announced $5 billion over five years to build a national electric vehicle charging network.
"The program will provide nearly $5 billion over five years to help states create a network of EV charging stations along designated Alternative Fuel Corridors, particularly along the Interstate Highway System," explains a press release from the U.S. Department of Transportation.
States will need to submit an EV Infrastructure Deployment plan in order to access these funds. More detail is available via the U.S. Department of Transportation.
2. More than 100 grant programs are being funded by the U.S. Department of Transportation, alone.
Beyond its program for the national EV charging network, the U.S. Department of Transportation has published more than 100 five-year totals for the grant programs published under the bipartisan infrastructure law.
These range from carbon reduction programs to capital investment grants, funding for U.S. forests, formula grants for rural access, and more.
The list of current grant programs is accessible from the U.S. Department of Transportation website.
3. The U.S. Department of Energy has committed to 60+ new programs.
These initiatives include 16 demonstration and 32 deployment programs, in addition to expanding funding for 12 existing research, development, demonstration, and deployment (RDD&D) programs.
While some initiatives are at the announcement or letter of intent stages, a number of programs are accepting requests for information. Examples of open grant programs include:
Advanced clean energy manufacturing and recycling grant programs
Photovoltaics research and development
Civil nuclear credit programs
The complete list of announced programs is available through the United States Department of Energy website.
4. Internet for all is a major focus of the legislation, with $65 billion in funding to achieve this goal.
Affordable, reliable high-speed access is crucial to the economic future of the United States.
"It powers education and the economy. It supports our health and well-being," explains Internet for All, a website established by the Biden-Harris Administration. " And it connects us to our neighbors and to those we love. Americans without internet miss out on many of these benefits. Roughly 1 in 5 American households aren't connected to the internet. That's a fifth of our country that's unable to fully participate in modern life."
The Bipartisan Infrastructure Bill allocates $65 billion to connect all Americans with reliable, high-speed internet. Four agencies are leading this effort: the National Telecommunications and Information Administration (NTIA), the Federal Communications Commission (FCC), the Department of the Treasury, and the U.S. Department of Agriculture (USDA).
There are currently 9 programs in effect to help support the planning, infrastructure, and adoption. Examples include:
Broadband Equity, Access, and Deployment (BEAD) program
Connecting Minority Communities Pilot Program
Enabling Middle Mile Broadband Infrastructure Program
Tribal Broadband Connectivity Program
A complete list of initiatives is available on the Internet for All website.
Helpful educational resources
1. How energy and utilities can access infrastructure spending for clean energy and modernization efforts (PwC)
Consulting firm PwC has published a valuable resource that summarizes how funds from the Bipartisan Infrastructure and Jobs Act will be allocated:
Reducing carbon
The construction of thousands of miles of new transmission lines needed for the expansion of renewables and clean energy
The development, demonstration and deployment of cutting-edge clean energy technologies to speed the industry's transition to a zero-emission economy
Efforts to clean up Superfund and Brownfield sites, reclaim abandoned mine land and cap orphaned gas wells are also eligible for funds under the bill
Communities across the United States are the ultimate beneficiaries of these funds.
2. Navigating the complexity of the bipartisan infrastructure law (McKinsey)
Consulting firm McKinsey has created a Bipartisan Infrastructure Navigator to "to help governments identify programs, monitor key deadlines, and more." This resource can help a range of industry participants, from private sector technology providers to field service teams and more. Ultimately a lot of groups will be working together to execute on ambitious objectives.
"A database of more than 20,000 discrete elements powers the BIL Navigator," explains McKinsey. " The database uses artificial intelligence to analyze the law's 1,000-plus pages of text, as well as additional research we've conducted on BIL's approximately 400 programs. It is continually updated as the federal government releases new information about them."
This long-term resource can help organizations of all types get clear on details that might be uncertain or confusing.
Taking action
In the coming months and years, as initiatives continue to materialize, organizations will be mobilizing to prepare. Field service organizations will inevitably be part of the overall deployment equation, and one key question will be how to best support people in the field to make their best judgment calls.
As deployments begin, it will be important to have the right software in place to execute expediently, efficiently, and with a high degree of precision. A work order management system will be especially useful for meeting this goal while keeping technicians productive.
Praxedo is here to help connect field teams with mobile tools that can greatly improve service quality. With an intelligent field service software system in place designed to streamline operations and jobs, dispatchers spend less time scheduling the ideal route and technicians get to their destinations faster. Optimized scheduling will not only improve response times, but also keep customers happy.
Contact us to schedule a demo to learn more about our field service management software.
In collaboration with Storyhackers.