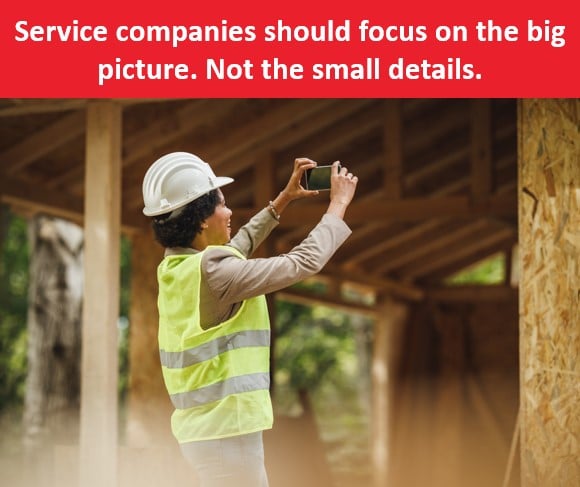 Field Service Management
Work Order Management
Mobile App
Field Service Software
Why service companies need to focus on the big picture rather than the smaller details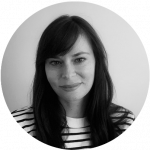 Tania Piunno
We've pretty much reached a point where we know the importance of software automation for service excellence. Service managers understand that centralizing key operational processes is necessary for delivering successful business outcomes. Choosing the ideal field service management (FSM) solution for your business and evaluating its effectiveness, however, isn't as clear-cut.
It's about prioritizing the right features
Like anything in life, focusing too closely on the minor details, may have you missing the bigger picture. FSM software is like a central hub of information for all of your service maintenance activities and customer visits. There are countless solutions on the market that help you digitize your work orders and dispatch your teams. But as a growing business, you need to know what components and feature sets will add the most value.
Below you'll find what to look out for above the rest. What features to prioritize, and which ones to not be so critical about.
Perfection doesn't exist, but you can get close
Realistically, a flawless solution doesn't exist. Some people will invest in a complex all-in-one ERP system to manage their business activities from start to finish. The software provides insight into every department including project management, marketing, accounting, supply chain, risk management, among others. At the end of the day, you're paying for a lot of stuff you don't actually need.
Others will try to build a solution from the ground up, but the work involved is tedious, and costs to maintain the system can get steep.
Service managers can ensure the right features come together to form the perfect product for their business needs by looking for these 5 "big picture" product features, in a best-of-breed offering:
1. Look for something that is configurable
Every service business has unique needs. Configuring certain features to adapt to the way your business functions, will enable the creation of the ideal platform for all of your employees – from the office to the field. Choosing the way your interfaces are set up for your admins and technicians and creating custom data structures based on what your company needs to know are fundamental to business growth. After all, being successful in today's economy is about evolving and adapting to whatever societal change comes our way. The best strategy to getting a close to perfect solution, is to configure it to work for you.
2. Look for something that integrates to your existing workflows
Especially when considering new technology for your teams, integration capabilities allow you to link additional parts to your operational workflows without having to change the entire structure. If you're reading this, chances are you already have processes in place and information systems that work fairly well. Why would you have to change them? What you're missing is a piece of the field service management puzzle that will make life easier for your field teams, keep customers happy and help you save money. That's where a best-of-breed solution like Praxedo comes in. We believe that the best solution will allow you to keep your third-party data systems in place and connect them to your centralized FSM tool for job management and dispatching schedules.
3. Look for something that is simple for your technicians to use, yet robust enough to capture everything
Probably the most essential component to look for is one that is easy for the employees in the field to use. Technicians have enough on their plates – diagnosing problems, installing and maintaining equipment, and above all, making sure things run smoothly for customers. The last thing they need is a complicated system with a long learning curve. They require a tool that enables them to work smarter, not harder.
An article in the Harvard Business Review states it loud and clear – we need to "put people first". The role of technology is not so much about changing the way technicians work, but more about complementing and supporting their needs while at work.
FSM software with an integrated mobile app becomes a portable documentation device that empowers technicians to respond to customers faster, better detect equipment problems, and become more autonomous on the job. It helps technicians pull up important instructions to resolve issues the first time and capture all the data they find in the field. Features such as online/offline functionality and photo upload capability are additional value-adds to increase efficiency and improve employee satisfaction.
4. Look for something that specializes in work order management
A well-rounded FSM solution will possess powerful work order management features to help create, approve, and close work orders. Service organizations often have multiple work requests (work orders) for various maintenance tasks to manage a day. Some are recurring visits, others new or last-minute emergency situations. Praxedo has worked hard to design a field service software that does work order management very well. With the right digital tools, technicians can optimize efficiencies and improve service quality. Before looking into a solution, however, make sure to look out for the following common mistakes in choosing a work order management platform.
5. Look for something that has a powerful scheduler
Dispatchers need visibility into their technicians' schedules and location at all times. This allows them to accurately dispatch the right person in the fastest time. A powerful scheduler helps open up more business opportunities since more jobs can be completed on time and more work orders can be squeezed into one day.
There are certain attributes to pay attention to when choosing an intelligent scheduler. For example, Praxedo's SmartScheduler uses an algorithm-based engine to analyze operating constraints and distances between job A and job B. In a few clicks, the most optimal schedule is generated to simplify the dispatcher's job and make the technician's routes as short as possible.
Big picture functionality you should focus on
The goal should never be to find a flawless solution, but rather a path to the best suited solution for your technicians. Best-of-breed solutions allow you to get the most out of your FSM platform. As Gartner puts it, "although enterprise resource planning (ERP) vendors offer numerous enterprise applications and claim that their integrated system is a superior solution, all modules in an ERP system are rarely best-of-breed."
At Praxedo you can have a field service management solution that is designed with service companies in mind and configurable so that you can make it your own.