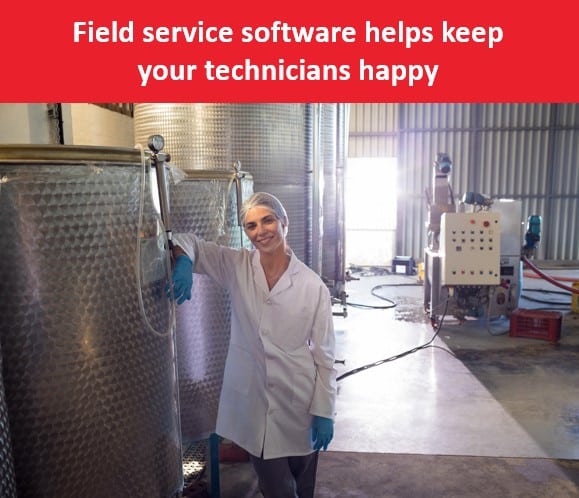 Technician
Field Service Management
Mobile App
Recrutement
cloud-based
Supporting your technicians with the right tools (and keeping them happy)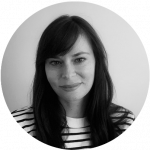 Tania Piunno
Employees can make or break a business. Not only do maintenance technicians require the technical knowledge to do their jobs correctly, they must possess a number of personality traits to be able to deal with the customers they encounter every day. Patience, good listening skills and the ability to handle high stress situations are all qualities highly sought after in the field service industry.
Without happy field technicians, your service quality will most likely take a hit. After all, these mobile employees are the face of your company and customer expectations are at an all time high. In fact, an article published by Indeed explains the importance of the customer's perspective and its power to sway their decisions and "influence their spending habits."
The aging workforce
Across the United States, many people are choosing to work beyond the typical retirement age of 65. That's because the average American is living longer. According to the U.S Bureau of Labor Statistics, "the percentage of people 55 and over has doubled in the last 20 years and that this trend is projected to continue."
Happy technicians stay longer
This makes employee satisfaction all the more important. With not nearly enough skilled technicians ready to fill their positions, field service organizations want to retain their personnel the longest they can. Service managers are equipping their techs with the right tools to help facilitate their day to day activities. Optimized scheduling, real-time inventory updates, readily accessible documentation, powerful work order management and easy-to-use mobile applications are keeping technicians on the job and motivated to work.
Here's an overview of the different ways to support your mobile employees and enlighten them so you can ensure your service business remains a successful one.
Cloud-based field service software helps technicians shine in the presence of customers
Technicians in the field require cloud-based tools that enable them to collect and access important information during customer visits. Field service management (FSM) software helps mobile teams manage and schedule the various work orders that come in, in one place.
Service delivery operations that are mobile and supported on technicians' mobile devices provide a sense of empowerment, and put forth their best personality traits. This way, they can always provide the greatest customer experiences, wherever they go.
The most critical interpersonal skill in the service industry
Everyone expects maintenance technicians to have solid technical knowledge in their field. In the telecom space for example, technicians may require a certain degree of systems engineering technique, or a solid understanding of how fiber operating systems function. A HVAC technician will need thorough knowledge of the health and safety protocols to follow during a client visit.
Although service industries can be vastly different, the common trait required by any technician working in the field is none other than social intelligence. Service technicians deal with customers everyday and need to answer questions, deal with concerns, compliments and sometimes even complaints. They need  flexible personality to be able to listen and understand customer problems, and act with empathy.
Field service software brings out the methodical, communicative, and confident technician
To effectively execute the tasks outlined in technical manuals and carry out jobs according to regulatory standards, field technicians must be meticulous and methodical. Their daily tasks include communicating their findings with the team at the central office, explaining equipment issues to customers, and collaborating with other technicians. Confidence is key when having to work in stressful environments that may require servicing equipment in high altitudes, extreme temperatures, handling toxic chemicals, working underground or on utility poles, etc.
Digital tools help enhance their skills
Methodology
Knowledge acquired in school will only take you so far. Experience that is gained in the workplace is the true asset. It's especially important to use field service management (FSM) tools that guide technicians to do their best work. Having access to the history of the work performed on a piece of equipment for example, will help them better diagnose problems in the future.
Cloud-based FSM HVAC management software is accessible from anywhere on their mobile device. An easy-to-use mobile app like Praxedo helps them be more methodical in the way they approach service jobs. It is straightforward and simple, yet has the capacity to digitally document all data (including images) captured in the field.
Communication
FSM software is designed to open up more lines of communication that are never interrupted. The mobile app they take with them on job sites should facilitate communication with teammates and customers alike. Field personnel need to be connected at all times – online and offline – so that they can be more productive. However, the extreme environments they work in don't always support reliable internet connections.
For example, if an elevator mechanic is underground with no internet signal, field service software should function anyway. With Praxedo software, technicians can complete a work order while underground, and have it sync in real-time as soon as a connection is established above ground.
Customers can receive notifications via email or text on the status of their work order. If a technician is on their way, customers appreciate being alerted with an arrival message that helps them prepare for the technician's visit.
Confidence
A salesperson's confidence will assist in winning more deals and selling more services. That's why it's so important for technicians to feel empowered at work and use mobile tools to reassure their customers of their abilities to install, maintain and repair equipment properly the first time. In fact, confidence is the first thing clients notice upon arrival. A tablet or phone with a built-in mobile app instills a greater sense of independence and employees instantly feel more valued.
For example, real-time synchronization of schedules is essentially how techs are able to optimize the jobs they carry out each day, and confidently perform difficult tasks in complex environments. A telecommunications service technician's job of installing aerial fiber cables requires careful precision. Application notes on fiber cable placing methods often include special instructions for technicians such as to not look into a fiber end that has a laser attached to it and to seek immediate medical attention if an eye was exposed to a laser.
Read more on improving field service management for fiber optic installers and telecom equipment maintenance experts, in this ebook.