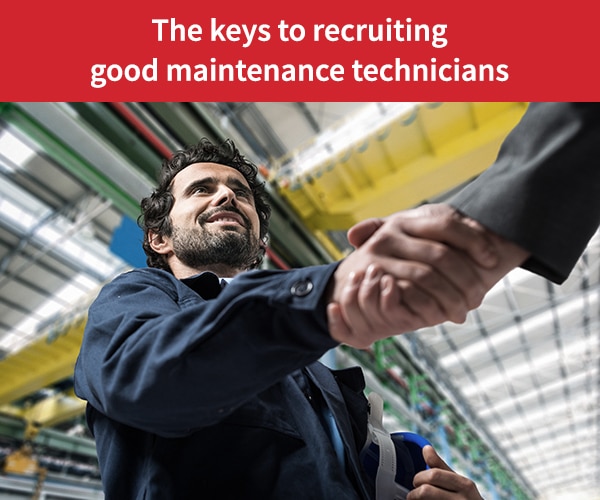 Technician
Field Service Management
Artificial Intelligence
Recruiting
Recrutement
Soft skills: how to recruit good maintenance technicians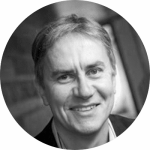 Xavier Biseul
September 8, 2021
In addition to technical knowledge, maintenance technicians must have a number of behavioral skills such as listening skills and the ability to deal with stress.   From personality tests to artificial intelligence, here's an overview of different ways to detect these all-important soft skills.   Everyone expects maintenance technicians to have solid technical knowledge of their field, whether it's IT, electronics, mechanics, hydraulics or pneumatics. But, in addition to these technical skills, or hard skills, which can be demonstrated with a diploma or through testing, maintenance technicians must possess a number of behavioral skills — soft skills.
The ideal technician is methodical, communicative, confident
To efficiently and effectively execute the actions described in technical manuals and quality standards, technicians must be meticulous and methodical. They must also embrace mobility and be flexible, able to adapt to the new situations they encounter every day.   Because they're ambassadors for the maintenance services the company provides, technicians must have excellent interpersonal skills. They must be empathetic and good-natured to patiently listen to customers so they can fully understand the issue and reassure customers. Equipment failures and the resulting consequences can leave customers in extremely stressful situations.   Technicians must also be able to work in difficult conditions and noisy environments, and to work shifts, evenings and weekends. As a result, they must know how to manage their own stress.   Even in cases where technicians work primarily alone, they must have a strong sense of teamwork and feel comfortable collaborating with remote experts when they need advice.
Soft skills are increasingly important in a changing world
Stress management, team spirit, organizational skills, listening skills, adaptability and initiative… These human qualities are among the most sought after by recruiters.   According to a study by the global employment website, Monster, 85% of companies consider behavioral skills during the hiring process. The figure rises to 91% among micro- and very small enterprises because technicians' human qualities are very closely scrutinized in small organizations.   With the major disruptions underway — digital transformation, energy transition — soft skills have become increasingly important as companies must constantly adapt to an ever-changing world.   Technical skills are on the way to planned obsolescence. According to a study published by Dell and the Institute for the Future, 85% of jobs in 2030 do not yet exist. Training in new technologies is also available free on the web through Moocs and other video tutorials.   As know-how is devalued, companies are looking for interpersonal skills. They believe someone with a good head on their shoulders will be better able to adapt and progress in a changing environment.
Personality assessments help identify ideal candidates
But, how do you detect these highly desirable soft skills in an informal way? According to the Monster study:
95% of companies rely primarily on their feelings and the job interview
37% use the candidate's professional references
35% use a personality test
SOSIE is among the tests most often used to verify a match between an individual's expectations and personality and the characteristics required for the position. SOSIE uses 98 situations, each with three or four possible answers, to profile candidates by evaluating their professional behavior, values and motivation.   PAPI — the Personality and Preference Inventory — is also very popular and comes in two forms. Candidates can either choose which of two statements best describes them, or they can evaluate their agreement with a given statement on a scale of 1 to 7.   As its name suggests, the Big Five Personality Test identifies the five major aspects of the human personality: openness, professional conscience, extraversion, "agreeableness" and emotional stability. French company, Monkey Tie, offers the Big Five test and the Culture Fit assessment for motivational drivers for free on its website.   Of course, these tests are only a decision aid that reinforces and validates what the recruiter felt during the interview. Although it's still practiced by some companies, graphology, a questionable method, is losing ground.
Less conventional approaches can be very revealing
There are also other, less conventional approaches. They offer to identify a candidate's personal traits through individual or collective scenarios. The in-basket event is one of the most well-known role-playing games. You're back from vacation and your email is overflowing with emails of varying importance. It's up to you to deal with them within a limited amount of time.   New, more playful forms of personality assessment are also emerging. The concept of escape rooms has been revisited with a view to recruitment. Candidates are locked in a room and must combine their skills to exit, highlighting their collaborative and leadership capabilities.   The principle of the serious game also lends itself to selection. In a Realistic Job Preview (RJP), candidates are invited to play their future role in various interactive scenarios. During a preventive maintenance visit, you notice that a piece of equipment has broken down due to an obvious lack of maintenance. How do you handle the situation with the customer?   Virtual reality makes it possible to go one step further in immersion by identically reproducing the work environment of the position to be filled. Equipped with a virtual reality helmet, future technicians must perform a certain number of tasks in a given time frame. Recruiters can see their dexterity, analytical skills and stress management.
Artificial intelligence selects candidates without discrimination
Finally, as in many other fields, artificial intelligence has a role to play in recruiting. By using algorithms that are agnostic, a growing number of HR solutions aim to eliminate the conscious or unconscious bias recruiters may have toward a candidate's age, sex or race.   For example, Easyrecrue, specialists in selecting candidates by video, has developed a machine learning algorithm that analyzes the candidate's verbal and nonverbal communications to identify behavioral qualities such as their ability to communicate or work in a team.   The algorithm considers the choices and richness of the vocabulary used as well as the tone and rhythm of their speed. Personal data, such as the person's name and gender, are anonymized.   The objective of this type of solution is to analyze all applications, which is essentially impossible at large companies that are drowning in floods of spontaneous applications, and to "look" at them in a scientific way.   It's a way to identify atypical profiles that have not followed the traditional academic or professional path. People with these profiles can make very good technicians, loyal to the employer who has given them a chance.