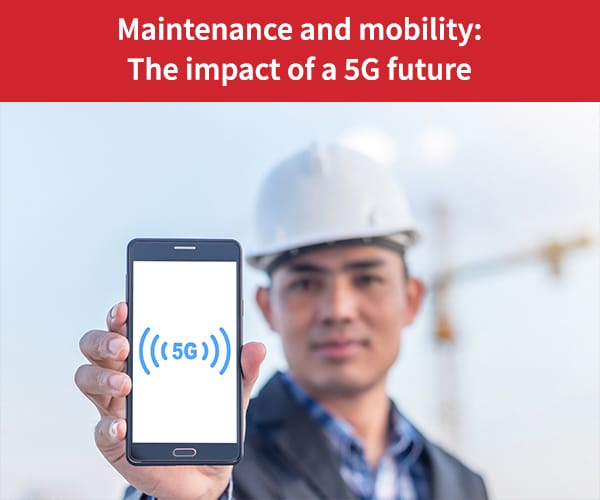 Mobility
Maintenance
Internet of Things
Mobile App
Technologies
What 5G will bring to maintenance and field service companies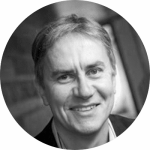 Xavier Biseul
With far faster data rates and low-latency transmissions, 5G wireless technology will make it possible to realize the benefits of predictive maintenance and augmented reality.
 
To understand the impact of 5G, don't go by its name. 5G is not an extension of 4G technology in the way 4G was an extension of 3G. These fifth-generation networks, which are expected to be launched in 2020, will offer a huge leap in terms of both throughput and coverage. French company, Bouygues Telecom, calls it "ultra-mobile broadband."
 
5G will offer theoretical data rates that are up to 10 times higher than those of 4G. Tests being carried out by telecom operators and their equipment manufacturers are pushing meters to their limits with peak speeds that exceed 10 Gbit/s. And latency is extremely low, on the order of a millisecond.
 
5G also enables telecom operators to densify their networks, a factor that is crucial for the Internet of Things (IoT). 5G will be able to support the expected explosion in the number of connected devices, a number Cisco says could reach 50 billion worldwide by 2020. 5G also improves indoor wireless coverage, enabling communications with sensors and intelligent meters located in building basements.
 
Because it supports beamforming that concentrates signals in certain directions, 5G can track moving objects. That means it will support critical future technologies such as autonomous cars. It will also enable use of drones to inspect buildings and monitor critical sites.
Almost infinite use cases
With all of the benefits and advantages that 5G offers, telecom players are already speculating on a large number of use cases. The media and entertainment industry should be one of the first to benefit. Their subscribers will be able to stream very high definition movies (8 K) or download them in a few seconds.
 
In healthcare, 5G is expected to drive the growth of telemedicine that will bring medical services to underserved locations. And logistics and agri-food professionals will use 5G to trace the entire life cycle of a product, from production to consumption.
Monitoring energy distribution networks
Maintenance, especially remote maintenance, is one of the use cases that's most often mentioned. Companies in the energy sector will be able to rely on 5G to monitor their networks using sensors and to retrieve data from their customers' smart electricity, gas and water meters.
 
From this perspective, 5G will compete with today's low-speed Sigfox and LoRa IoT networks. These networks don't use much energy, and they preserve sensor autonomy. However, they're basically limited to providing only telemetry data and only according to a schedule. In contrast, 5G will be able to continuously collect enriched data.
Powering predictive maintenance and virtual reality
In the factory of the future, 5G will make predictive maintenance a common practice. Predictive maintenance tracks equipment performance over time so that breakdowns can be anticipated before they occur. Large numbers of sensors, machines and robots will all be connected.
 
5G will also deliver on the high hopes for virtual reality and augmented reality applications that require high bandwidth and very low latency.
 
Download a manual in seconds
Last July, Bouygues Telecom ran 5G experiments in Bordeaux using real-world conditions. One of the demonstrations they shared in workshops showed a maintenance technician using a HoloLens augmented reality helmet to get advice from an expert who was about 10 kilometers away.
 
The remote maintenance application is called 5G Remote Expert and was developed by HoloForge Interactive, the holographic division of Asobo Studio. The benefits of 5G to on-site technicians doesn't stop there. They can also download any manual or technical documentation they need in just a few seconds.
Standalone 5G will arrive in 2025
We won't see the most disruptive uses of 5G until about 2025 when "standalone" 5G arrives in a second phase of technology evolution. Between 2020 and 2025, 5G and 4G will coexist, with operators using small, square antennas called smart cells to densify their networks. Starting in 2025, operators will update the hearts of their networks.
 
Standalone 5G paves the way for "network slicing" that will literally slice the network. Network slicing makes it possible to create customized, virtual networks and deploy them on-the-fly. This will ensure end-to-end performance for critical applications that have stringent requirements for quality of service and availability.
 
The advantages of network slicing
With network slicing, bandwidth can be reserved for priority users, such as the emergency response teams at the scene of a disaster. On sensitive industrial sites, maintenance technicians can be assured they will have access to a highly reliable and high-quality connection with 99.999999% availability.
 
To enable virtual private networks, network slicing relies on network functions virtualization (NFV) and software-defined networking (SDN) virtualization technologies as well as the cloud and an architecture that's based on microservices and software containers.
Manufacturers can become their own telecom operators
As the digital and telecom worlds converge, they will share the same underlying infrastructure. This opens the door for new players as it will no longer be necessary for telecom field service operators to own the infrastructure. Companies, such as Google, Amazon, Facebook and Apple (GAFA), can become mobile virtual network operators (MVNOs) without heavy investments. Industry players may also be interested in subleasing a frequency so they can have their own network.
 
In Germany, regulators looking at the allocation of 5G frequencies called on operators to open their networks to third parties in a fair and non-discriminatory way to promote digital transformation in industries and services.