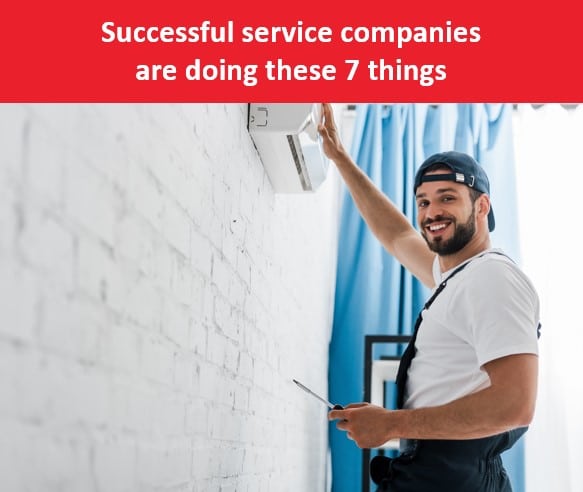 Field Service Management
scheduling
field technicians
7 things successful service companies do, that you should do too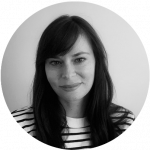 Tania Piunno
Service companies that want a competitive advantage rely on technology more than ever. As a field service provider working with technicians scattered all over the map, you'll need to meet increasingly high expectations for digital operations from your customers and your employees.  
There are affordable technology solutions that address the challenges and risks the service industry currently faces, and bring additional business benefits.
We've compiled the 7 actions successful service organizations take to beat their competition, and elevate their business to new heights.
7 things successful service companies do that others might not
1. They make sure they're more connected with customers
Field service software allows them to set up automated emails and notifications so customers are informed in real time as their work order progresses. They know when their job has been scheduled, when technicians are on their way, and when the job is complete, whether they're present at the job site or not.
2. Travel routes are always optimized
The software they use recommends the best travel route to job sites and between job sites, considering factors such as time of day, traffic congestion, and construction. As conditions change throughout the day, they can easily reoptimize and update routes to maintain maximum travel efficiency. Technicians spend less time on the road, and have fewer travel-related frustrations to deal with. And they can reduce fuel consumption and wear and tear on vehicles.
3. All schedule and travel information is at their technicians' fingertips
There's no need for technicians to start their day from the office, or return to the office to check the latest schedules. Technicians can see their appointments, map-based views of the optimal travel routes to job sites, and detailed work order descriptions at a glance on their mobile device. And they can automatically communicate job progress to office staff by changing their status in the app. Technicians also have more flexibility to manage their own schedules. If they finish a job early, they can schedule themselves for nearby jobs. They can also create work orders on the spot if new opportunities or requirements emerge during the day. They can reschedule jobs if needed, and are instantly notified if office staff reschedule a job while they're on-the-move.
4. Their techs arrive on site fully informed and prepared to act as a trusted advisor
All customer information, including the site address, contact details, and customer history are available through their mobile app. Before they arrive, technicians can review reminders and tips for working at the site, as well as any previous recommendations made to the customer by company sales staff and other technicians. Apps like Praxedo allow them to check spare parts availability and locations. Technicians' ability to review all of this information while they're in the field means they always arrive on site fully prepared and equipped to efficiently execute on the job, and to have informed conversations with customers — whether they're answering questions, reviewing maintenance packages, or explaining service options. And there are no delays or mix-ups if customers have multiple sites and different types of equipment.
5. Invoicing is faster
Successful service companies never need to worry about losing business-critical data. Electronic service reports that are fully customized for a particular industry, customers, job types, spare parts, and other factors make it fast and easy for technicians to capture all required data while they're still in the field. Technicians can complete the service report on their mobile device and immediately send it back to the office for processing and invoicing.
Because the FSM software seamlessly integrates with their enterprise resource planning (ERP), customer relationship management (CRM), or accounting software, all report data is automatically populated in the system so there's no need for manual data entry.
6. Service is faster, first-time fix rates are higher
During their service calls, their technicians can use the mobile app to access real-time solutions to real-time problems. They can check data sheets, technical guides, and checklists of procedures to follow when troubleshooting or repairing specific types of equipment. They can also exchange instant messages and photos with other technicians and company experts to get immediate assistance to challenging problems.
7. Service reports are always accurate, complete, and instantly available
When service is complete, their technicians can impress customers by immediately providing the completed electronic service report for validation. For example, the report form in Praxedo includes mandatory fields, and is designed with checkboxes and drop-down lists so it's fast and easy to complete, and ensures technicians provide all required information. Technicians that work for successful service companies collect customers' electronic signatures on-site and can attach photos that illustrate the extent of the problem and verify the repair was properly completed.
Adding it all up
The benefits of field service management software (FSM) for service companies really add up. At the end of the day, you're giving your technicians a mobile tool that helps you build every aspect of your business.
Praxedo field service software enables any organization with technicians in the field to:
Increase profitability by providing faster, more responsive customer service, improving first-time fix rates, and accelerating billing.
Differentiate from the competition by empowering technicians to become trusted advisors that add value for customers at each stage of service delivery.
Grow your business by expanding your relationship with existing customers and attracting new ones through referrals from happy customers.
Improve technician satisfaction and retention by giving them the flexibility and freedom to take more initiative and achieve greater success.
Reach out to us to schedule a demo today.