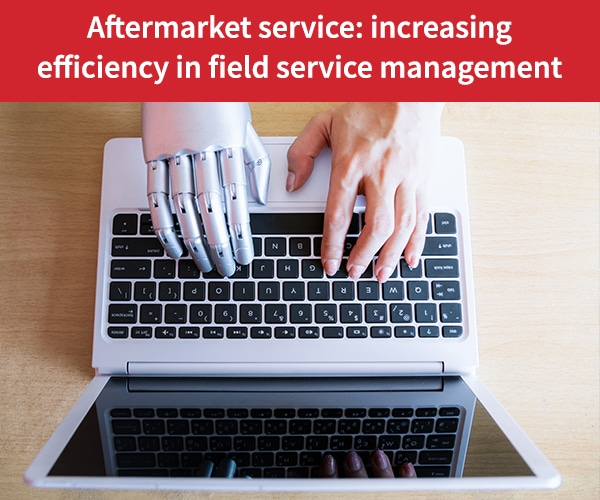 Software
Customer Satisfaction
Logiciel
Technologies
SAV
Satisfaction Client
Logiciel
Balancing humans and technology in aftermarket service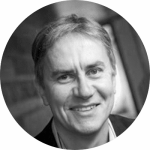 Xavier Biseul
While there's a clear trend to move toward digital field service management for performance and cost reasons, don't push it too far. By definition, customer relationships are based on human interactions.
 
The increasing use of digital communications channels such as email, live chat, online tutorials, FAQs and chatbots in recent years comes with the risk of dehumanizing the customer experience. We've all experienced the frustration of an online help desk that doesn't provide the answer we need followed by a call center experience that offers only wait times and bad elevator music.
 
Even in a digital world, the human aspect remains the predominant factor in customer relationships. A recent study by software developer, Pegasystems, points out that 70% of the consumers they surveyed prefer to speak to a human rather than an artificial intelligence system.
 
The degree to which digital channels are accepted will increase with the rise of generations Y and Z, the infamous millennials who grew up with a smartphone in their hands. In the meantime, helpdesks can't afford to ignore today's complaints that digital interactions result in a cold and disembodied experience.
 
The key is to find the right balance between digital and human interactions and offer the best of both worlds. A smooth and seamless customer journey harmonizes different points of contact by taking advantage of their complementary capabilities. In a sense, there's a parallel with the "phygital" trend. The rise of online commerce hasn't caused physical stores to close.
Automate simple and repetitive tasks
New technologies are intended to automate simple and repetitive tasks. For example, a chatbot can manage appointments for field technicians and provide first-level technical support. With their assistance, humans no longer have to man help hotlines asking questions such as "did you restart your computer" or "what do you see on the screen". Even though the answers to these questions from confused users can result in some very funny responses.
 
When technicians no longer have to spend time on these types of tasks, they can focus on the aspects of the job where they can add more value such as fostering customer relationships. They can put their very human qualities of empathy and listening skills to their best use.
 
Reassure service technicians
This human-machine combination must be managed with the appropriate human resource activities. Technicians don't need to feel that a machine is replacing them. Many studies paint a picture of a bleak future where artificial intelligence leads to massive job cuts and humans are enslaved by machines that have become more efficient than they are.
 
These anxiety-provoking scenarios must be tempered with reassurance. New technologies aren't intended to replace technicians, but to improve their quality of life by taking over their most thankless tasks. When digital technologies are used in the right way, they can even "augment" or "amplify" technicians.
Look for technologies that support humans
To avoid misunderstandings, it's important to formalize the way information flows between humans and machines. For example, a chatbot can initiate a conversation, collect preliminary data such as the customer's name, phone number, and the nature of the request, then pass the conversation over to its human colleague. The human can see all of the information the chatbot gathered so the customer doesn't have to repeat it.
 
Because chatbots never sleep, they can offer some level of customer service 24/7, providing customers with continuous service during the hours when traditional contact channels such as call centers, email and live chat are not available. Customers' requests are taken care of so they don't have to get on the phone to the call center the minute it opens the next day.
 
With chatbots, the escalation process can be scripted so that only specific, relevant customer responses are passed on to technicians. However, to ensure that customers don't feel too deceived, experts advise doing this only two or three times.
Choose the best medium for a given interaction
It's also important to choose the most relevant medium for a given interaction. Callbots, which are a kind of chatbot that's dedicated to phone service, replace interactive voice response (IVR) technology. With callbots, callers can freely communicate their request using natural language without pushing buttons on their phone or saying keywords that aren't always understood.
 
Paradoxically, digital technology allows customer service to be humanized with immediate and personalized responses when it's used wisely. For example, digital analysis of customers' text messages and recordings of call center interactions allow service requests to be prioritized according to their type and urgency.
 
In the future, voice and facial recognition technology will analyze emotions such as surprise, irritation, and anger, conveyed by a customer's speaking tone or face. Today, word-for-word transcriptions of conversations provide statistical insight that can be used to improve technicians' responses to customers and to improve quality indicators such as the first time fix rate.
Anticipate service request rates
Analyzing social network and discussion forum conversations can reveal signals that customer dissatisfaction is likely to turn into a service request.
 
Once an aftermarket service company knows about recurring product breakdowns, it can prevent other customers with the same product from experiencing the failure. The company can also increase the number of available technicians to ensure it can deal with the expected influx of calls. It's an issue of customer satisfaction.
 
Finally, on-site technicians will behave differently if they are notified the customer has expressed their dissatisfaction through various digital touchpoints. Field service management software helps to ensure the smooth flow of information to technicians.
Implement data privacy measures
With the Cambridge Analytica scandals and increasing data privacy regulations such as the General Data Protection Regulation (GDPR) in Europe, information flows must transparent. Customers must be aware of what data is collected and how it will be used. They must also be able to withdraw their consent at any time.
 
More than a year after the implementation of the GDPR for personal data protection, privacy has become a major issue. Half of the respondents in consulting firm Wavestone's worldwide survey say they have already exercised the rights outlined in the GDPR (right of access, right to be forgotten, information portability…).
 
To ensure customers trust digital devices, a helpdesk must set up all of the technical and organizational safeguards needed to protect the confidentiality of personal data and tell customers the measures they've put in place.