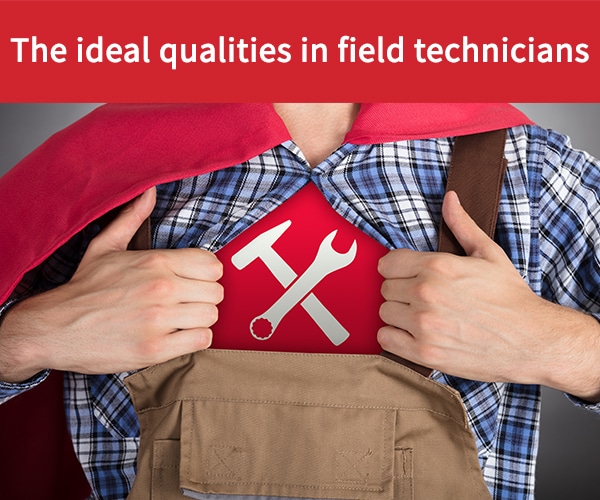 Technician
Productivity
Maintenance
Recrutement
The ideal qualities in field technicians: what can you expect?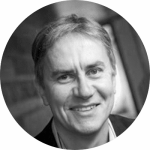 Xavier Biseul
August 23, 2018
Meticulous, punctual, pleasant … the ideal field technician brings a number of interpersonal skills to their role. They're also able to adapt to using a wide variety of digital tools to better manage field service activities.
 
Customers are primarily interested in technician effectiveness. They're looking for technicians to arrive on site, accurately diagnose the problem and complete the repair as quickly as possible.
 
Speed is particularly important if the issue has stopped production or the company's ability to provide service to its customers.
 
The technician's ability to quickly analyze situations and determine the appropriate tools and steps required to resolve issues are put to the test every day. A meticulous approach must be second nature, especially for preventive maintenance activities.
 
Technicians must carefully follow predefined procedures to check the status of materials and services. If an anomaly or a potential failure is detected, for example due to wear and tear, technicians must complete the repair or change the defective part.
Strong verbal and writing skills
Maintenance technicians are in constant contact with customers. As a result, they must remain calm, pleasant and approachable, even when faced with stressed or angry customers. Writing skills are also required to provide clear and concise descriptions of the service provided.
 
English proficiency and physical fitness
Most technical documents and user manuals are written in English. As a result, English proficiency is essential for technicians to use these resources and acquire the knowledge needed to monitor and maintain customer equipment.
 
Technicians must also be in good physical condition. Because they spend most of their time working in the field, technicians are exposed to a wide variety of weather conditions and work environments.
 
They have to deal with the fatigue associated with frequent road trips, and they have to carry heavy items. They also have to deal with the stress that can come with schedule changes due to last-minute emergencies.
Empowered by technology
The ideal field technician can handle what seems to be a contradiction — the need to operate autonomously, but also as part of a team. New technologies mean that technicians are no longer alone in the field. They're in constant contact with colleagues back at the service center. According to an Aberdeen Group study published in June 2017, 65% of best-in-class field service management companies ensure close contact between technicians in the field and the contact center, compared to 42% on average.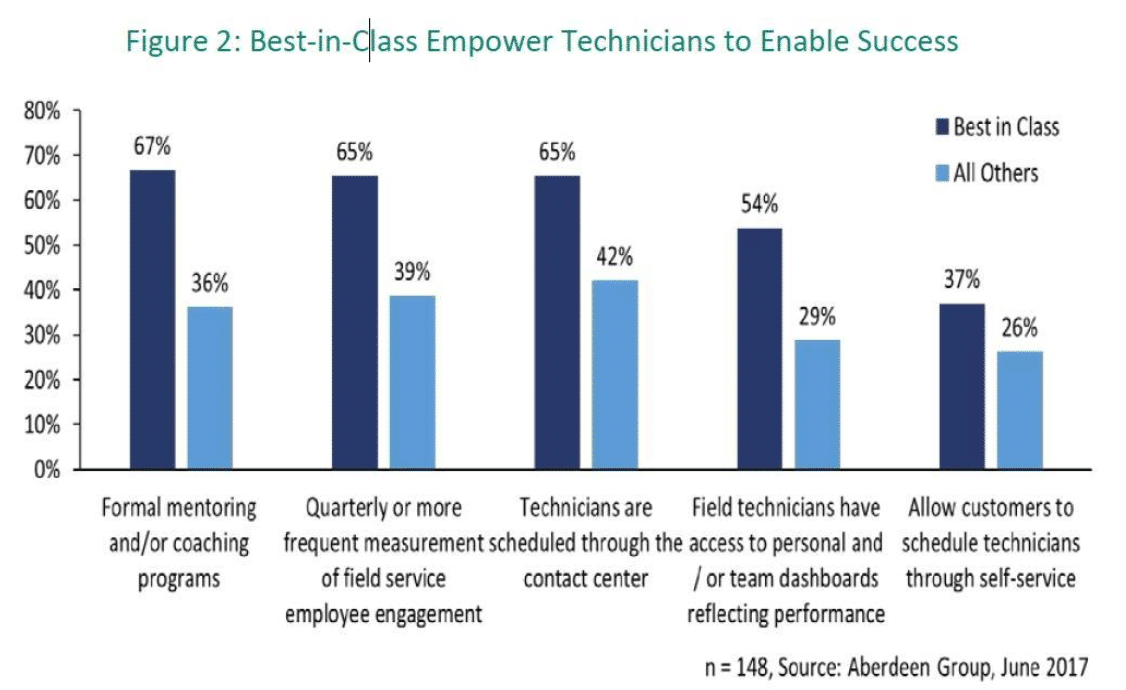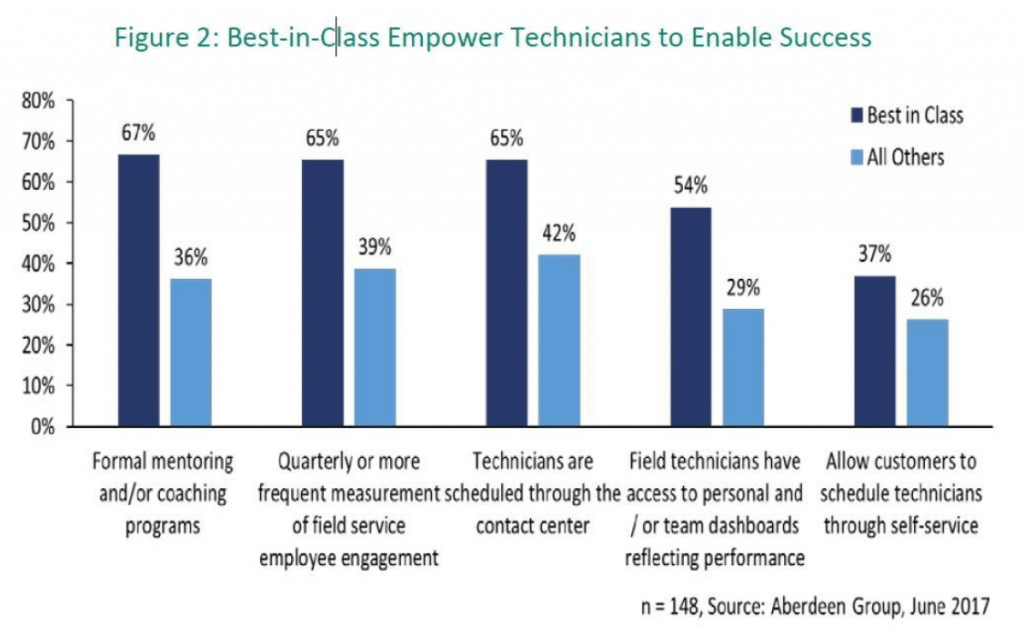 Source: Service Workforce Management: Empowering Technicians to Satisfy Customers – Aberdeen Group, 2017
Always connected to the service center
Technicians' mobile devices become like an umbilical cord that connects to them to their desk-bound colleagues. They can use voice, text and video to communicate. And they can send photos or diagrams to remote experts who can annotate and comment on the pictures to help refine problem diagnosis. With the ability to share information, technicians benefit from precise and detailed recommendations that help to increase the first-time fix rate.
Punctual with access to real-time data
Mobile devices enable far more than collaboration capabilities. Technicians can use their mobile device in a variety of different ways, from instantly learning about schedule changes to using the GPS to get to their next appointment.
 
The geolocation capabilities in the technician's vehicle also help to improve punctuality. For example, if the technician expects to be late arriving to the appointment, customers can be advised of this fact.
 
The ability to use real-time information is an important differentiating factor in terms of quality of service. According to a study that was completed before the Aberdeen Group study, 55% of leading field service companies provide real-time technician location and status information, compared to 31% for other companies.
Highly efficient and informed
Mobile devices also help to improve efficiency by reducing service time. Technicians can use their device to consult the necessary documents and technical manuals, even when they are in areas with no network access.
 
Technicians can also use their mobile device to determine whether they are carrying the required spare parts in their vehicle. If the parts are not in the vehicle, technicians can extend their search to check the stock status at the nearest location then reserve or order the required part.
 
Accelerate billing and payment
Empowered technicians also use their mobile device to complete service reports that provide easy-to-use drop-down menus and checkboxes and to have customers validate the report by providing an electronic signature.
 
Using the same device, technicians can capture all of their time — start and end time for the day, service times, break times. This information is sent directly to the service company's enterprise resource planning (ERP) system to avoid the risk of errors and double entries and to accelerate the billing process.
 
When connected to a payment module, the technician's mobile device also becomes an electronic payment terminal (EPT). Now, the billing process can start right at the customer site by simply scanning a barcode that corresponds to the services performed.
Trained in the state-of-the-art
It's crucial that maintenance technicians are always trained in the state-of-the-art in the industry they serve. However, because technicians are constantly on the road, training becomes difficult. If they come into headquarters for in-person training, service continuity can be affected. Again, mobile devices are a key part of the solution.
 
Mobile learning is a subcategory of e-learning. With mobile learning, you can provide training content that is customized for mobile devices. The term micro-learning is also used for tutorials that are designed for use on a mobile device and are less than two minutes in length. These very short training sessions can be supplemented with longer sessions on desktop computers when it makes sense for technicians to return to the service center.