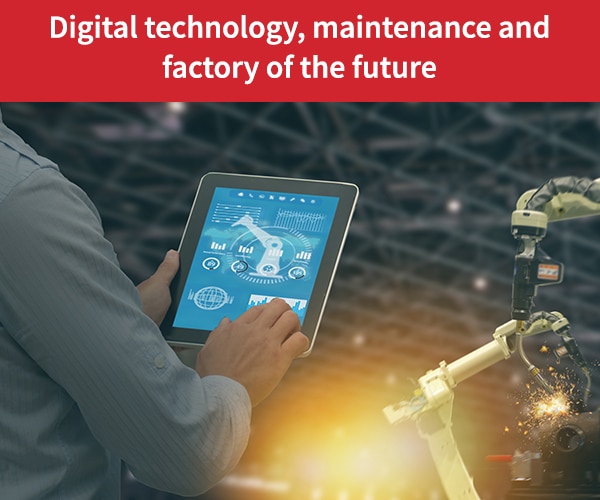 Maintenance
Gestion d'interventions
Artificial Intelligence
Technologies
Maintenance in the factory of the future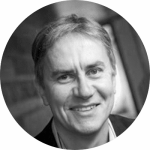 Xavier Biseul
The Internet of Things (IoT), artificial intelligence, additive manufacturing … the factory of the future relies on digital technologies. The ability to manage all of the data these technologies generate opens the door to broader use of predictive maintenance.   Today, we're in the era of the 4th industrial revolution. With the mechanization, industrialization and automation eras behind us, digital technologies are having remarkable effects in factories. Additive manufacturing, IoT, robotics and artificial intelligence are profoundly changing the way products are designed, manufactured and maintained.   In the factory of the future, or Industry 4.0 as it is often referred to, production facilities are fed with a continuous flow of data. In the past, computerization was limited to computer-aided design (CAD) and computer-aided manufacturing (CAM) systems, but today, the entire lifecycle of a product can be digitized, from initial design to digital mockup, through logistics, and all the way to maintenance.
Prevent breakdowns, extend equipment lifespan
In the data-driven factory of the future, data also propels production. From digital control of robots to the manufacturing execution system (MES), the ability to collect data in real time provides valuable insight into quality, performance and availability.   The top benefit of the factory of the future is most certainly predictive maintenance. With data from pressure, temperature or vibration sensors on equipment, manufacturers can see the real-time state of equipment health and prevent breakdowns or operational deviations to ensure compliance with quality policies.   When fluid quality or temperature levels approach critical thresholds, the system determines there is a risk of failure that may or may not require a service call.   Predictive maintenance also helps ensure equipment is properly monitored and maintained to extend its lifespan. With deep insight into equipment operation, manufacturers are in a far better position to optimize equipment operation.
Equipment availability is the top priority for manufacturers
The impact on business operations is substantial. According to a study conducted by KPMG and French business magazine, L'Usine Nouvelle, two-thirds of manufacturers rank equipment availability as their top priority as they strive to reduce costs and improve quality.   Digital technology helps manufacturers minimize downtime. Any time equipment is unavailable, productivity drops, creating additional costs. Delays in deliveries and decreases in quality can also affect the company image.  
Objective: "zero downtime"
Manufacturers are working hard to achieve their goal of "zero downtime". According to the French study:
83% of respondents say they have deployed, or are about to deploy, a computerized maintenance management system (CMMS)

78% say the same about a remote maintenance tool

60% are focused on a predictive maintenance solution

30% are taking advantage of virtual reality and augmented reality

34% are moving to additive manufacturing
However, while half of the manufacturing respondents say that predictive maintenance is already in place, 91% of respondents indicated they are still following preventive maintenance practices. The adoption of predictive maintenance is hampered by a lack of skills in digital technologies.
Aeronautics and steel production: two case studies
Some industries are more interested in taking advantage of predictive maintenance than others. The aeronautics industry is particularly advanced, and maintenance costs are their largest expense after fuel.   Everyone involved in the aeronautics chain has an interest in preventing breakdowns. For example, airlines want to reduce downtime, and engine manufacturers want to minimize spare parts stocks. French aerospace company, Safran, has created Safran Analytics, an entity that's totally focused on big data, while Airbus offers its predictive maintenance services to airlines.   The steel industry is another case in point. In steel manufacturing, steel plates pass through heating, cooling and bathing phases. By adding cameras and pattern recognition technology to production lines, steel production metrics and surface quality can be verified.   These measurements can also be used to evaluate equipment operation in the factory. A damaged roll of steel can lead to deformations on the surface of steel plates. While quality is not yet seriously compromised, detecting these variations as soon as they occur allows steel manufacturers to initiate predictive maintenance operations.
Data is crucial to understand product usage
While predictive maintenance is closely associated with artificial intelligence and the Internet of Things (IoT), it's not just about making equipment "smart". With connected objects, manufacturers can keep tabs on their products, even when they're out in the market. They know how products are being used and which features are most popular.   Manufacturers can use this real-world usage data to evolve their products and develop future product generations. They can also optimize the associated maintenance services. This feedback is far more valuable than any customer satisfaction survey could be.   New business models, such as usage billing, also become possible. For example, in the aeronautics industry, engine manufacturers already offer maintenance contracts that are associated with flight times.
Additive manufacturing enables 3D printing of parts
The factory of the future can also make good use of 3D printing technology. This technology is considered to be additive manufacturing because it adds materials rather than taking them away, which what happens in factory machining processes. With 3D printing, any number of small, customized parts can be created.   In the world of maintenance, additive manufacturing allows companies to print spare parts as close to customer sites as possible to reduce parts inventories and logistics requirements.  
The key role of humans
Finally, the factory of the future values the role of humans. While humans have been slaves to machines for a long time now, machines now serve humans. With cobotics — a combination of "collaboration" and "robotics" — robots work in place of humans, executing the most difficult, repetitive, unrewarding and dangerous tasks.   These types of technologies augment humans. For example, with an augmented reality helmet, maintenance technicians can superimpose all of the information —schematics, data sheets — that's needed to complete tasks.   And virtual reality can be used for training. Maintenance technicians can be plunged into an immersive world where they can practice the actions they'll have to execute in real-world situations. They can start over as many times as needed and film their actions to continuously improve their performance.